Different Types Of Video Conferencing Software
This article tells you about the different types of video conferencing software that can be applied to suit the needs of individuals and large groups.
Before now, it was complicated for different parties worldwide to communicate and interact with each other without physically meeting. As a result, teams and personnel were forced to travel long distances or rely on traditional communication channels to pass their messages across. This changed with the introduction, development, and integration of video conferencing software. This software solution ensured the instant transmission of information between single entities and multiple teams. Now, organizations can organize crucial meetings with separate groups worldwide without worrying about transportation costs.
Now, different types of conferencing software can be applied to suit the needs of individuals and large groups. Each video conferencing system has unique features and characteristics suitable for various scenarios. To choose the best type of video conferencing solution for your brand, you need to have full knowledge of its different types. This piece will take a detailed look at the different kinds of video conferencing systems that organizations can adopt.
Video Conferencing Software Variations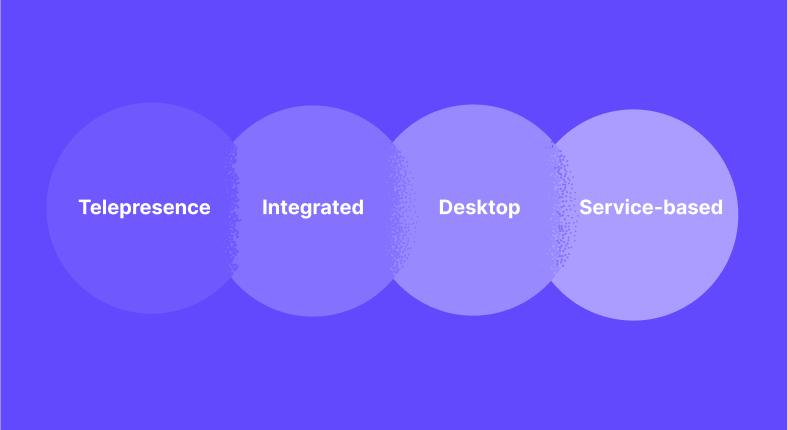 There are different types of video conferencing software solutions, namely;
Telepresence
Integrated
Desktop
Service-based
Codec
Let's take a closer look at the meaning and applications of these software solutions.
Telepresence
Telepresence video conferencing systems are among the most common types of this popular software. It is designed to hold a meeting between different parties by bringing them together as closely as possible. It doesn't matter if the meeting participants are in a separate room; this software solution will seamlessly connect them. The great thing about telepresence video conferencing is that it can be easily set up. Large screens and cameras will be installed in a room, with the cameras positioned at eye level. This setup will produce an effect in which different meeting participants appear as if they were seated around a table in the same room. You'll find this type of video conferencing setup in intra-organizational meetings.
Integrated
Unlike telepresence video conferencing systems designed for individual use, integrated software solutions are meant to connect groups. This type of video conferencing solution is possible when a centralized hub or equipment connects all the hardware in the room. In this type of setup, you'll find hardware devices and codecs. The leading equipment, including cameras, displays, and peripheral accessories, is set up in the main conference room. This conference room would be the location for the meetings, and teams would have to convene here to communicate with others outside the organization. This type of setup is ideal for boardroom and classroom meetings.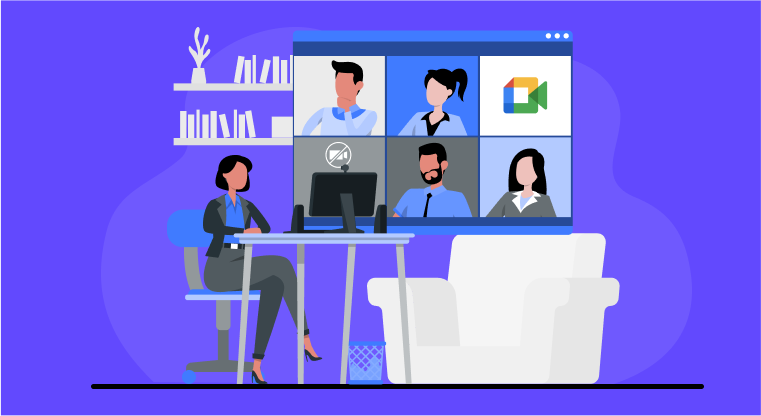 Desktop
This is an essential video conferencing solution adopted by office workers or people who want to hold their meetings on the go. Can do desktop video conferencing with either a software system installed on a computer or a hardware codec used as a monitor. Due to their impressive functionality, these systems have become fully integrated into many workplaces. When you adopt this software solution for your organization, video conferencing will become a part of your personal computer. It will offer all the features you need to connect with anyone worldwide.
Service-based
When using a service-based system, the service provider will be a telecom company, and they will be in charge of setting up and controlling the entire network. As a result, most of the work will be done for you, and your organization can focus on more crucial matters. However, you may have to pay a hefty price to compensate the service provider for managing the setup on your behalf. This type of system is perfect for companies with less technically inclined staff. Instead of spending money to hire new staff or train old ones to install this video conferencing system, you'll pay the service provider to handle all the heavy lifting.
Codec
This video conferencing software is an exciting alternative to the options explained above. It is in the form of a room-based video conferencing network. The network will have an outside display, camera, and microphone. This simple framework can be adopted in any meeting room. This setup is ideal for anyone who has a whiteboard in their office but may be interested in other physical activities during the meeting—for instance, someone who wants to be on a video call while walking around the room. The codec offers enough space and flexibility to do whatever you want. Remember that the codec system will require special maintenance and a constant running budget.
Which Video Conferencing Software To Use?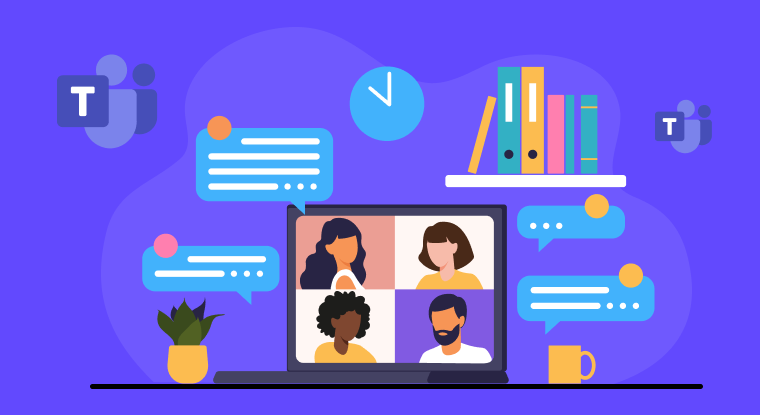 These are the main categories of video conferencing software that you can find anywhere. However, there are numerous software solutions designed by different manufacturers. The recommended video conferencing software includes Cisco Webex Business, Zoom Meetings, Google Meet, Microsoft Teams, Ring Central Video, and so on.co
ALL-IN-ONE Suite of apps to enhance your team's productivity