Best Alternatives to Cisco Webex Video Conferencing
If you're looking for Cisco Webex Video Conferencing Alternatives, this article will tell you everything you need to know.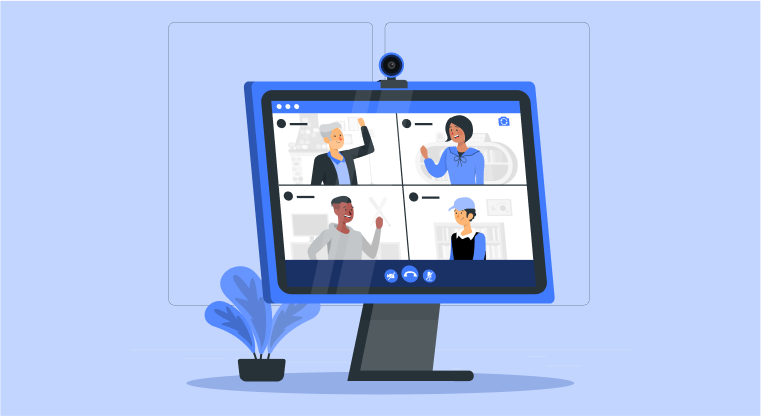 All about Cisco WebeX Video Conferencing App
Cisco offers a reliable, expandable solution for video conferencing through its WebEx online service. For businesses with up to 1000 workers or users, it enables access to customizable single-solutions including the WebEx Meeting Center, Learning Center, Event Center, and Support Center.
Already available capabilities in the WebEx Meeting Center edition include HD-quality video conferencing, VoIP conferencing, and unlimited online meetings with up to 6 additional users at once. Online conference platforms allow for the sharing of content and the use of whiteboards while supporting several webcams. By allowing users to share desktops and programs in addition to the capability to record shared sessions for things like training, Cisco WebEx promotes team cooperation. A phone, SMS, or an email can be used to swiftly and conveniently invite people to a meeting. The add-on software offers a wealth of extra features as well, including dynamic online learning environments with automated attendance tracking and real-time verification (WebEx Training Center), interactive webinars with personalized invitations with on-demand content (WebEx Event Center), and bi-directional assistance and session monitoring (WebEx Support Center), among many others.
Cisco WebEx is offered digitally, and you can use it to conduct business from your Microsoft computer, an Apple device, an Android device, or both. Web conferences and regular video conferences don't need any extra hardware, software downloads, or updates.
Top 8 Alternatives to Cisco WebeX video conferencing app
Are you looking into Cisco WebeX video conferencing application alternatives? View the buying factors that other Meeting Solutions Cisco Webex customers took into account. Potential customers assess competencies in areas including evaluation and contracting, integration and implementation, support and service, and specific product capabilities when comparing various solutions.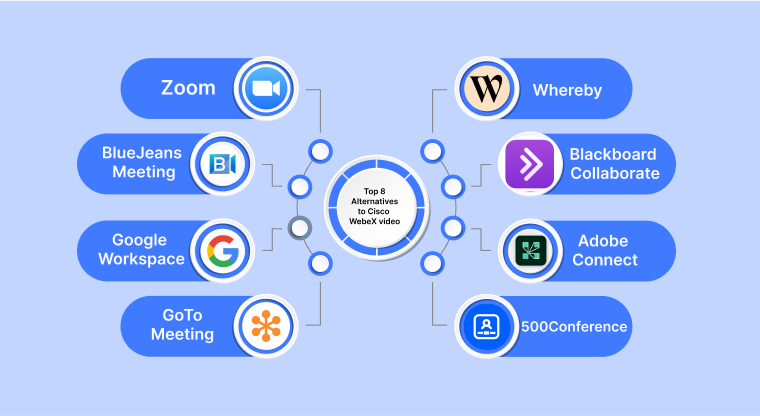 Zoom
Cloud video conferencing, straightforward virtual video conferencing, and group chat are all combined into one user-friendly platform by Zoom. Across Zoom Rooms, Mac, iOS, Windows, Android, and H.323/SIP room systems, Zoom's solution provides the audio, video, and screen-sharing experience.
Reviews as compared to Cisco Webex Video Conferencing app, Zoom is:
Easier to install
Easier to admin
Simpler to do business with
BlueJeans Meeting
The collaborative tools that individuals use every day are combined with video, audio, and web conferencing through Blue Jeans video conferencing. With BlueJeans, the first cloud meeting platform to unite computers, mobile devices, and room systems in a single video meeting, users can work effectively wherever and however they choose.
Reviews as compared to Cisco Webex Video Conferencing app, BlueJeans meeting is:
Easier to install
Easier to use
Easier to manage and admin
Google Workspace
Teams of all sizes can connect, create, and collaborate using Google Workspace. For all the ways we work, it includes collaboration and productivity tools, such as Gmail for personalized business email, Drive for storing data on the cloud, Docs for word processing, collaborate for voice and video conferencing, Chat for group and team messaging, Slides for presentation creation, shared Calendars, and many more.
Reviews as compared to Cisco Webex Video Conferencing app, Google Workspace is:
Easier to install
Easier to use
Easier to manage and admin
GoToMeeting
Another well-liked tool for video conferencing service is GoToMeeting. This teleconference technology is cost-effective since it has features like:
Computer, tablet, or smartphone screen sharing
HD video meetings
The Smart Meeting Assistant allows you to record meetings and will automatically provide a transcript.
A hardware package with user-friendly web video conferencing software.
Business messaging can switch from a chat window to a video-calling platform with the click of a button.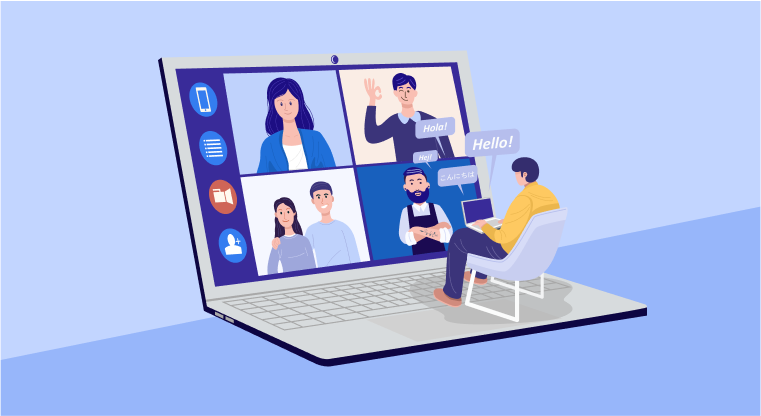 Reviews as compared to Cisco Webex Video Conferencing app, GoToMeeting is:
Easier to install
Easier to use
Easier to manage and admin
Whereby
This video chat service is ideal for small organizations searching for a simple way to connect team members. It provides speedy service due to its efficient design. Users of Whereby do not need to download the app or log in to participate in meetings in-browser; they simply need to share their meeting URL with others.
Reviews as compared to Cisco Webex Video Conferencing app, Whereby is:
Easier to install
Easier to use
Easier to manage and admin
Blackboard Collaborate
Blackboard CollaborateTM is a virtual conferencing software for classroom and online communication solutions that were created especially for organizations that need to give students more flexible, personalized, and engaging learning options. To address the wide and varied needs of today's educators and students for collaboration goes much beyond typical web conferencing. Blackboard Collaborate, which was created with the learner in mind, provides a degree of engagement that causes students to forget they are not in a traditional classroom.
Through digital, blended, and mobile learning, Blackboard Collaborate is assisting thousands of higher education, K–12, professionals, business, and governmental institutions around the world. You can engage more pupils by opening up new real-time or 24/7 learning facets. Reviews as compared to Cisco Webex Video Conferencing app, Blackboard Collaborate is:
Easier to install
Easier to use
Easier to manage and admin
Adobe Connect
You can tell unique stories with the help of Adobe Connect and the true power of the virtual world! Design and deliver outstanding virtual meeting and immersive experiences for a wide range of audiences using its adaptable stage. Allow it to enhance and securely broaden your reach during meetings, webinars, and training sessions.
Deliver Real Experiences
Transform the way you interact with your audience by developing rich virtual meeting platform experiences with your audience using engaging design and strong storyboarding tools.
Improve your Team Work and Communication with Online Virtual Meetings Today! Sign Up 14 Day Trial
Extend Your Reach
Take advantage of the true potential of the internet to connect with audiences of various backgrounds and skills throughout the world.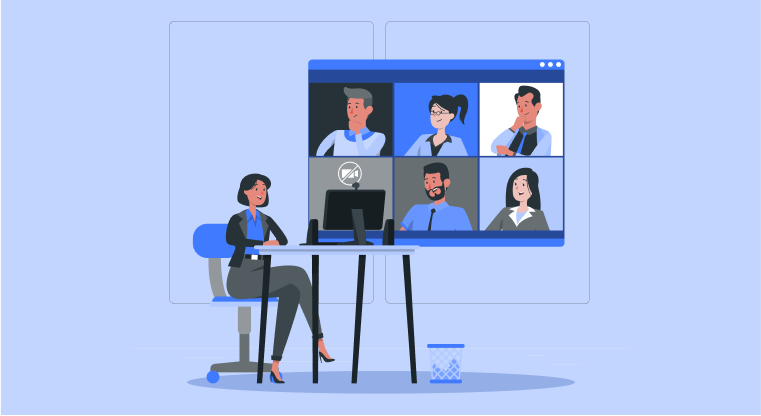 Reviews as compared to Cisco Webex Video Conferencing app, Adobe Connect is:
Easier to install
Easier to use
Easier to manage and admin
500Conference
500Conference is a video conferencing software by 500apps. Due to its outstanding features, this great video calling program is at the top of this list. You can improve your participants' online meeting experience by using this software. This software is convenient due to its many capabilities, especially for holding remote meetings. Secure screen sharing, real-time chat, call recording, private and public conversations, and mobile phone access are all available to you. The length of meetings is also not constrained. As a result, you are free to have meetings for as long a period as you choose.
Additionally, the yearly subscription is 30% cheaper than the monthly fee, which is only $14.99 each month. You get an online video conferencing tool that is routinely updated, safe, dependable, and feature-rich.
Reviews as compared to Cisco Webex Video Conferencing app, 500Conference is:
More protected and secure channels improved voice and video conferencing quality straightforward interaction with programs like Teams.cc, CRM.io, NinjaChat, and others.
Access to an unlimited number of attendees at public gatherings without any restrictions, allowing for convenient mass communication.
Conclusion
Consider your genuine needs before choosing which of the top video conferencing programs to use. For instance, someone who just wants to have casual conversations with a few people can discover that a free alternative is the most economical and offers all of the essential primary capabilities required. However, if you want to utilize video conferencing for work or company, particularly frequently and with a large group of people, you should consider looking at the more expensive solutions.
One of the most well-known online conferencing systems, Cisco WebeX Video Conferencing software has gained the confidence of numerous businesses. However, Zoom's competitors, like 500Conference, provide more cost-effective capabilities. With its cutting-edge capabilities, 500Conference by 500apps is the most competent video conferencing software for companies of all sizes.
What Makes the Best Video Conferencing Software?
#1
Unlimited Meeting Duration
#2
Live Virtual Meeting Recording
#3
Real-time Chat & Polls
#5
Seamless Secure Meetings
#6
Practical Brand Promotion
#9
Unbelievable pricing - the lowest you will ever find
#10
Everything your business needs - 50 apps, 24/5 support and 99.95% uptime
Join the SaaS Revolution
All-in-One Suite of 50 apps

Unbelievable pricing - $14.99/user

24/5 Chat, Phone and Email Support