Top Features in a Video Conferencing Software for Businesses
Video conferencing is a communication technology that allows two or more people to interact with each other via video and audio transmissions.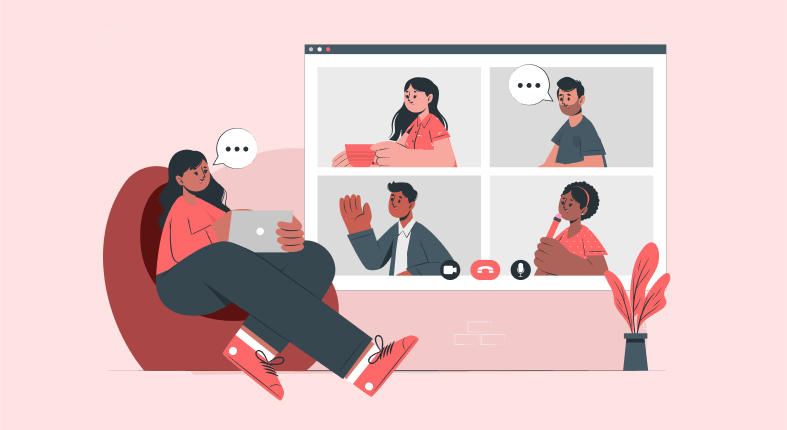 A close friend of yours has sent you an invitation to his birthday party. You want to get him a memorable gift for the occasion, so you head out to the mall to pick something out. You decide that a game console will be the perfect gift. So, you make your way to GameStop and immediately get tangled in a dilemma, there are so many game consoles to choose from, which one will he like the most? We've all been there. We find ourselves indecisive when presented with a wide selection to choose from, especially if we can only pick out one item, be it for ourselves or others.
Many businesses face the dilemma of choice as well, albeit not for game consoles or gifts but tools and assets. In this day and age where technology is at the forefront of innovation and success of every business, work culture is shifting from being office-bound to entirely remote. For remote work to be productive and efficient, businesses are investing in online conferencing platforms, and with the market being flooded with options, it can become hard for businesses to choose the best one out there.
But there's no need to panic if you know what you're looking for, it's only a matter of time before you find the perfect solution. In the upcoming sections, we will go over some of the most prominent and important attributes to look for in virtual conference platforms to help you choose the best one for your business.
What is a Video Conferencing Software?
There was a time when people used to communicate over long distances through messenger pigeons. Then came telegrams, express mail, and later telephonic services. When the internet and computers became part of our society, businesses used email services. Now, the communication paradigm has shifted once more and this time, to tools that allow real-time video communication, such as video conferencing software like 500conference.com.
Have you ever FaceTimed or video-called someone? A video conferencing software offers exactly that, a platform to allow people to connect and video call in a group. The key difference is that this software is built from the ground up for this exact function and is specialized with features that enrich video conferencing capabilities.
Its uses in the business:
If you're part of a big company, then you'll testify to the fact that there seems to be a meeting every other hour of the day. This is because businesses require their different divisions, teams, and departments to coordinate with each other, especially when they are working together on a project.
Now here's a problem, when businesses have teams working remotely, how can they ensure effective coordination and communication when they're not present on-site? Well, this is where video conferencing tools like 500conference.com come in. It not only provides an optimized platform for multiple members to visually attend a meeting but also includes useful features such as screen-sharing, real-time messages, file transfers, private and secure meetings, call recordings, and managing and scheduling meetings, all for the sake of ensuring effective communication.
Best Video Conferencing Software Qualities
If you're in the market for a video conferencing software solution but don't know which one is the best for you, then bottle down your worries because we are going to help you. Here are 6 important attributes that you will absolutely need in a video conferencing software and if you find one which has all 6, then that's what you're looking for.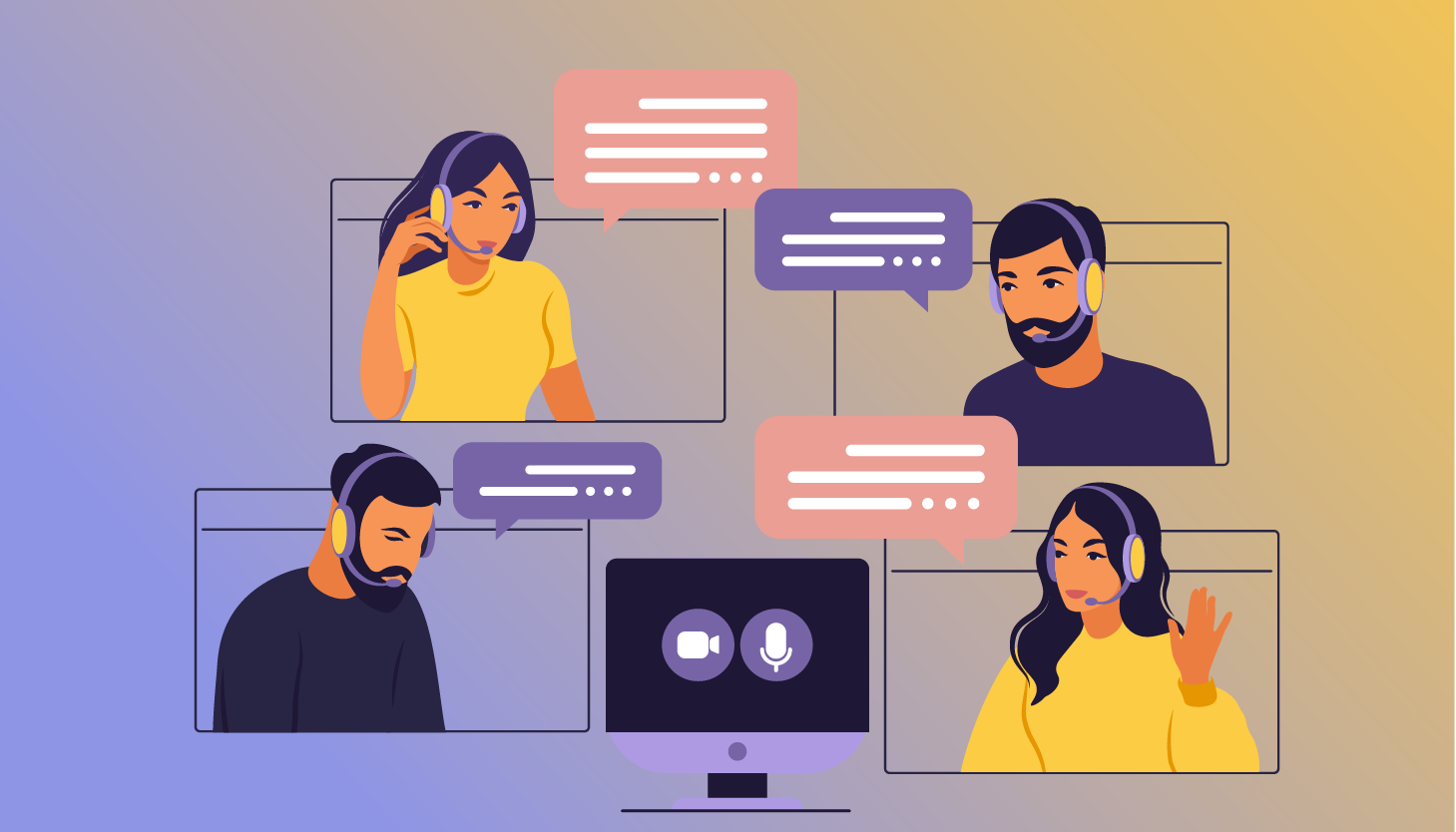 1. User experience
One of the most important aspects of any software solution is the user experience. If the software is hard to use, clunky, buggy, and difficult to implement, then it's never a good choice. As a business, you want to keep the efficiency and productivity of your employees as optimal as possible. If the user experience of the video conferencing tool is bad, then it'll affect not only your business's workflow but your employee's working capabilities as well. So, a video conferencing software needs to offer an easy and friendly user experience, just like 500conference.com. A video conferencing software that boasts to have an amazing user experience would at the very least include features such as
Single-Click to Join
A good and easy-to-use video conference software should make it convenient for users to join rooms and meetings with a single click. The best to do it can be through a link that automatically redirects the user to the application and joins the meeting. If users need to go through unnecessary hurdles to join a simple meeting, then they're less likely to prefer using software tools like this to collaborate.
High Definition Video and Audio
By design, the very purpose of a video conferencing tool is to recreate live in-person meetings. So, it is essential for the tool to have the capability to maintain and support high-definition audio as well as video.
Screen Sharing
This is basically a quintessential feature that any good video conferencing tool needs to have. This allows meetings to be more intuitive and productive since a participant can share important information resources they have prepared on their comptuer with the others without the need to explicitly share the resource with each and every one of the participants. This feature makes it possible to emulate presentations that would take place in live in-person meetings.
2. Security
A video conferencing tool that hosts meetings needs to be highly secure. The reason behind this is very simple, meetings involve confidential and sensitive information that needs to be kept away from unwanted ears, even more so when the meeting is being hosted online. If confidential information leaks because someone from outside the company bypassed the security and quietly spied on meetings, then it can compromise the entire business plan of a company. That's why the best virtual conferencing software tools like 500conference.com feature robust security layers.
3. Reliability
Reliability is another important feature that many video conferencing tools boast about. It's a common occurrence for bugs to pop up in software or even encounter unexpected errors. You don't want this to happen especially when you're about to host or even join an important meeting. That's why video conferencing software solutions need to be reliable and regularly maintained so that such a situation can be avoided entirely.
4. Storage
Since video conferencing tools feature recording options by default, the question about storage inevitably pops up. A good video conferencing tool will give a cloud storage option for the users to store the recorded meetings. This saves the users the hassle of buying additional dedicated storage hardware and makes the chore of fetching and locating the recorded meetings for any user incredibly easy. This way, not only does the company have a dedicated off-site storage option for their recorded meetings but if for any reason, these recordings need to be reviewed, they can be easily located and accessed on the cloud.
5. Supporting Conferencing tools
A video conferencing software that has built-in support for various conferencing tools such as CRM platforms can go a long way in making your meetings more productive and effective. With the support provided by the software for these tools, users can request their implementation. This saves teams the hassle of acquiring these tools separately and using them in an improvised manner.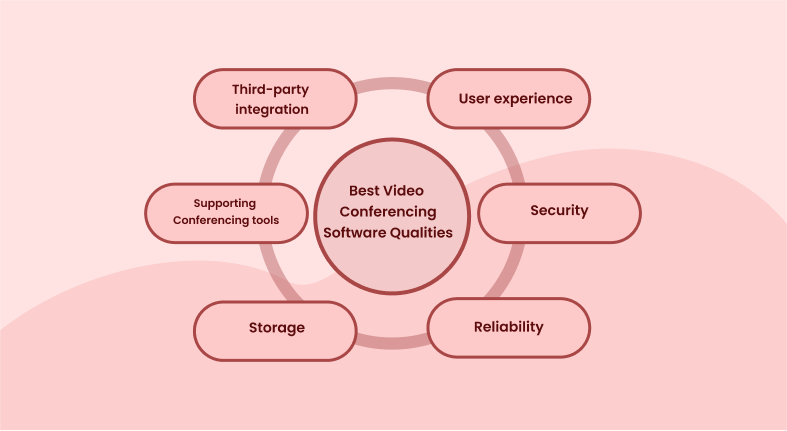 6. Third-party integration
Productivity applications are very important in any business. In fact, it's not an overstatement to say that many businesses depend on productivity applications such as Google software suite, Salesforce, and Microsoft Office 365 to handle their core tasks. If a video conferencing software can integrate with these productivity apps, then tasks become even more easier and streamlined. For instance, a video conferencing tool like 500conference.com offering third-party integration brings benefits such as:
Scheduling and Launching Meetings
By integrating calendar and email applications with video conferencing tools, hosts can easily schedule and launch meetings directly from the application itself, making it more convenient and useful.
Importing File Resources
Integration with Google or Microsoft's productivity suite allows users to import presentation and document files directly into the meeting to share and use without any additional hassle.
Notes
Some productivity apps which incorporate machine learning to automatically make notes of important discussion points in an online meeting can make decision-making and planning tasks streamlined and quick. Integration with such apps adds a huge benefit for employees and team leaders.
Video call Recording
By directly integrating third-party video call recording apps, it gives the users freedom to use their preferred video recording application directly in the video conferencing software so that they can use the recorded files later as a reference for projects or even as training material for newly hired employees.
Teamwork makes the dream work. Video conferencing has become the norm in the entire industry and by using the right tools, you can ensure that your employees can spend more time collaborating and coordinating with each other rather than waste precious time and resources in figuring out how to use the tools and technology properly. Looking for the right video conferencing tools for your business won't be easy but if you keep these attributes in mind, then you'll find the perfect tool for your business sooner than you expected.
What Makes the Best Video Conferencing Software?
#1
Unlimited Meeting Duration
#2
Live Virtual Meeting Recording
#3
Real-time Chat & Polls
#5
Seamless Secure Meetings
#6
Practical Brand Promotion
#9
Unbelievable pricing - the lowest you will ever find
#10
Everything your business needs - 50 apps, 24/5 support and 99.95% uptime
Join the SaaS Revolution
All-in-One Suite of 50 apps

Unbelievable pricing - $14.99/user

24/5 Chat, Phone and Email Support