10 Best Online Conference Platforms in 2022
Your company's requirements determine the most refined online conference platform. So always ensure that you consider your business's needs when choosing the right tool.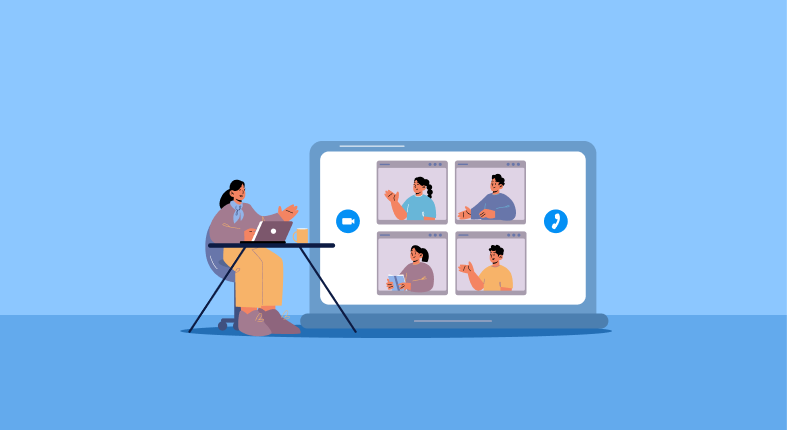 In today's business world, online conference platforms are more important than ever. The cloud meetings are no longer a niche because they are the central digital place.
Most companies are taking advantage of the internet to conduct their virtual meetings remotely. Therefore, low-quality video calls are bad for your business. Besides affecting your business image, it also lowers your productivity. Every dropped call due to software issues is considered a waste of time. It's frustrating to wait in line as you expect someone to learn how to use a tool that is not intuitive. That's why we did our best to gather all the necessary information to provide you with a list of the top 10 online conference platforms you should consider using in 2022.
Top Online Conference Platforms
500Conference
500Conference is a product of 500apps. This fantastic video calling software sits at the top of this list due to its remarkable features. With this software, you can boost the online meeting experience of your attendees. Plenty of features make this software handy, especially when conducting remote meetings. You can take advantage of secure screens sharing, call recording, real-time chat, private & public discussions, and mobile phone access. There is also no limit to meeting durations. Therefore, you can hold meetings for as long as you want.
Zoom
The chances are that you've heard of Zoom. This online meeting tool is famous for a good reason it's simple to use and does the job. Your participants can quickly join meetings without too much of a hassle. All you need to do is share a link with details on how to join a discussion. Zoom can also work even when you don't have a strong internet connection. This tool can help you schedule calls, chat, or connect to different room conferences.
Google Meet
While Google Meet might not be as popular, this online meeting tool is one of the virtual meeting platforms that are stable and reliable. The best part about using this software is that it can be integrated with other Google applications. For instance, you can schedule a meeting in your Google Calendar app and sync this with Google Meet. One exciting feature of this software is live captioning. This feature makes it easy for your audience to understand what the meeting is all about.
Whereby
If you are looking for simplicity without necessarily downloading any applications, then Whereby is most likely the right pick for you. It's a browser-based online meeting tool that is relatively simple to use. With this tool, you can quickly start a meeting by simply sharing a link with your attendees. Remember, they don't need any software to join your discussion. Any browser will do as long as they have the information required to participate in the meeting. Whereby's a free plan can allow you to host up to 100 participants, which isn't bad for a start.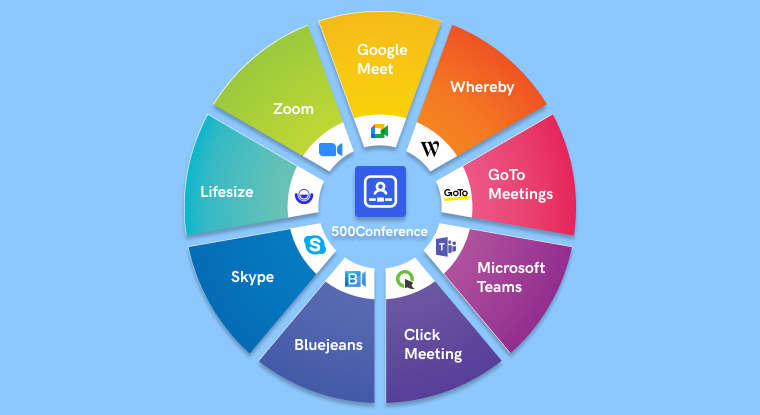 GoToMeeting
Mobile access is one thing that will distinguish one online meeting app from the other. GoToMeeting is a great tool that can be used on any device with an internet connection. Due to its mobile-friendliness, the software allows you to start meetings with your mobile device. You can use both the iOS and Android platforms to run this software. GoToMeeting is generous with pricing because the basic features are included in the lower package. It offers you a limit of 150 participants with the lower container. This limit is good enough for any business holding meetings over the internet.
Microsoft Teams
Since you may be using Microsoft products like Office, Microsoft Teams is an excellent online meeting tool that can be integrated with these Microsoft tools. Other features of this software include call recording, screen sharing, live captions, and chat functionalities, among other features. In addition, Microsoft Teams is complemented by robust hardware options that allow users to join meetings from almost anywhere on this planet.
ClickMeeting
ClickMeeting video conferencing software is packed with exciting features. The platform has almost all the tools you may require during presentations. You can play videos, share your screen, and even allow participants to take over your mouse for a better interactive display. Similarly, you can conduct polls using question-and-answer sessions. Better yet, ClickMeeting can be effectively integrated with marketing and analytic tools.
BlueJeans
Bluejeans are not so popular, but they have been in the industry since 2009. It's a cloud-based online meeting tool that is also worth trying. The good thing about this tool is that it offers free phone audio to over 40 nations. Bluejeans is an excellent choice if you are looking for a meeting platform that doesn't compromise on audio quality since it supports Dolby's voice.
Skype
Skype is not a new brand in the digital communication industry. You can also use this video calling software . Most people think they can only use this tool to catch up with family and friends. However, businesses can also use this tool to hold online meetings. You don't have to download this tool to your PC since it can be used from any browser. The screen sharing feature is also available. The only issue with Skype is that it limits the number of participants in your meeting. You need to sign up for Skype for Business to add more people.
Lifesize
If you are running a small business with less than ten people, Lifesize might be the right option for you. There are no caps on the duration of your meetings. One major issue with this tool is that it might be costly when paying for its premium version.
What Makes Good Online Conference Platforms?
Business meetings are essential to your company. Therefore, choose the right software to help you conduct such online conferences. Some crucial factors you need to include the number of participants the meeting should hold, frequency, the features of virtual meeting platforms, your budget, and the vendor's reputation.
The best tool for your online business meetings is reasonably easy to use. It can be frustrating to your attendees when the chosen software has issues. Your participants should click and join your session in an instant. Screen sharing, quality audio, and video, among other things, are the standard essential features you should not overlook. Moreover, you should confirm whether they can integrate the software session with other applications you're already using. Finally, the system's security and reliability should be among your top concerns as you look for an excellent tool for your online meetings.
Conclusion
Generally, finding the right online conference platforms comes down to your business needs. So always ensure that you consider needs when choosing the right tool for your business. This guarantees you get the most out of the software you invest in. We highly recommend the cost-effective software 500Conference by 500apps to make use of its extensive features. By signing up for this software you also get access to 39+ other applications of its parent suite which also include, online collaboration, live chat service, and enterprise CRM software.
What Makes the Best Video Conferencing Software?
#1
Unlimited Meeting Duration
#2
Live Virtual Meeting Recording
#3
Real-time Chat & Polls
#5
Seamless Secure Meetings
#6
Practical Brand Promotion
#9
Unbelievable pricing - the lowest you will ever find
#10
Everything your business needs - 50 apps, 24/5 support and 99.95% uptime
Join the SaaS Revolution
All-in-One Suite of 50 apps

Unbelievable pricing - $14.99/user

24/5 Chat, Phone and Email Support