The 12 Best Web Video Conferencing Software Platforms
Get the best web video conferencing softwares for your business. We've reviewed and compared the top options to help you make the best decision for your needs.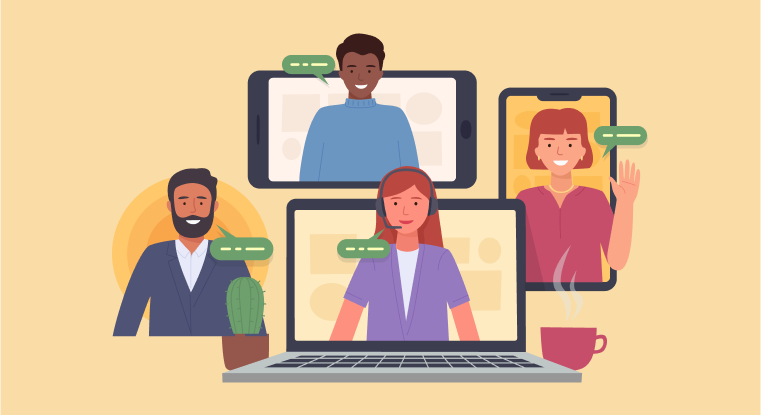 Web video conferencing software enables participants to conduct or attend meetings over the internet. Alternatively, it is referred to as video conferencing or online meeting software. Virtual video conferencing platforms using VoIP, online video, instant messaging, file sharing, and screen sharing are made possible through web video conferencing software. Tools for web and video conferencing have become essential to how many firms conduct business exclusively.
All about Web Video Conferencing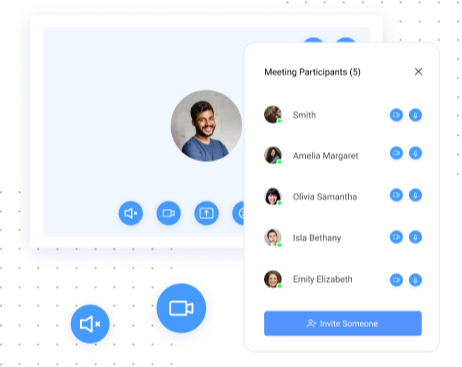 A web conference, also referred to as a webinar, is essentially a presentation or event that takes place online. It may be a lecture delivered by a lecturer or a quarterly business report from a company. Anyone who has access to the meeting link, a mobile device, such as a phone, tablet, or computer, and, of course, an internet connection, is welcome to participate in the session, which includes audio and visuals. When a participant opens a link, a web browser or video conferencing software will launch so they may view the web conference.
Business Advantages of Web Video Conferencing
Due to its audio and video representation, it is more interesting than audio conferencing. When information needs to be shared simultaneously amongst teams, this method is more effective.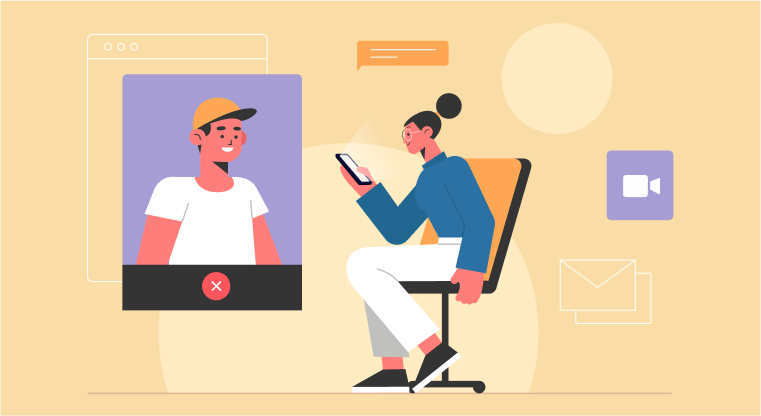 It is cost-effective and saves employees and other team members from having to pay for travel. Compared to audio calls, the effectiveness of communication is increased.
It offers a solitary platform that can be used at any time to connect the entire workforce to connect. Providing a venue for teams to come together and address any issue at any time, increases team productivity of the teams.
It helps more team members be present for the meeting and also record the conversation for those who can't make it.
When you know the meeting must end on time, it offers a greater structure for meetings with effective time management and clear agendas to adhere to.
Because working from home allows for a better work/life balance and gives employees more flexibility, it aids in employee retention.
With cheaper costs, more team cohesion, and more fruitful meetings, it provides a long-lasting competitive advantage.
12 Best Web Video Conferencing Software Platforms in the Market
Let's take a look: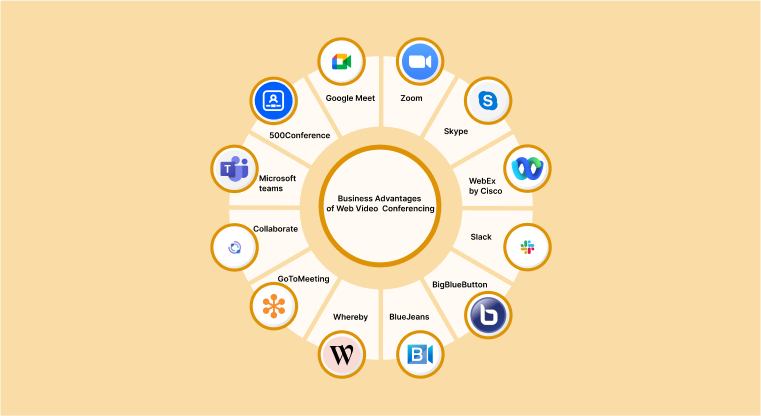 Let's look at the apps in more detail after highlighting the things to look for. All of the apps on this list are either free, provide a freemium model, or have demo versions that you may use.
Google Meet
Google Meet is a conference tool designed for business clients. It's a team-oriented enhancement of Google Hangouts. With features comparable to Zoom including calendar syncing, conference room reservations, and a more polished user experience, Google Meet is meant to facilitate scheduled video meetings between team members.
You should get in touch with the G Suite sales team for your customized estimate if you want to take advantage of all the features Google Meet has to offer, including limitless meetings with a duration of up to 300 hours, 250 guests, and the option to live-stream to up to 100,000 viewers, among other things.
Improve your team work and communication with Online Virtual Meetings Today! Sign Up 14 Day Trial
Zoom
One of the most often used business web video conferencing options is Zoom. With many plans based on business size and demands, it is feature-rich. For individual and team meetings, they provide a free plan. The free Zoom plan is used by millions of people across the world, but if you want something more comprehensive for your remote employees, the enterprise-level membership offers up to 200 meeting attendees, unlimited cloud storage, personalized emails, a vanity meeting URL, and other features.
Skype
The well-known Skype service from Microsoft has been enhanced with a business-ready web video conferencing feature. It provides several business features, including the ability to have meetings with up to 250 participants, connect with other Skype users, and use virtual whiteboards.
There are several restrictions, such as the absence of an integrated dial-in audio conference feature and the lack of hardware support for plans that solely offer internet access. A useful tool for teams of fewer than ten people, Skype's free edition makes it easy to have conference calls from a computer, phone, or tablet.
WebEx by Cisco
Cisco's WebEx video conferencing service is a regular offering, especially for those with a sizable team or a very large organization. It allows participants to join meetings online or over the phone depending on their location and available technology at the moment, making it a useful tool for both small and large organizations.
Slack
Slack is a potent, all-inclusive chat program for small businesses. Along with one-on-one and group conversations, Slack also provides web video conferencing, individual and group phone conferences, and one-on-one phone calls.
Communication is made easier with Slack than it is with traditional chat tools. Hashtags can be used by users to organize a variety of tasks, groups, and other things. They can also use safe file-sharing platforms like Google Drive, Dropbox, and others to transfer files by dragging and dropping them onto the platform.
All chats and data are synced, preserved, and searchable for future use. You can alter displays even on those belonging to other individuals.
BigBlueButton
Designed primarily for education and online learning, the open-source BigBlueButton has whiteboard functionality for meetings. As a free open-source tool, there are several add-ons and connectors offered by third-party developers that permit the creation of unique web conferencing scenarios. One such integration is one with Learning Management Systems (LMS), which will create an intuitive user experience for both students and teachers.
BlueJeans
Blue Jeans video conferencing is one of the feature-rich online conference platforms that work with teamwork tools. In contrast to some of the more complicated services provided by rivals, Bluejeans touts a straightforward and contemporary methodology. It uses a system of meetings, spaces, and events to make video meetings possible everywhere.
With the ability to start meetings from a browser, no software is necessary. Additionally, the program makes it simple to view all video conference activities within your company.
Whereby
For small businesses looking for an easy way to connect team members, this video chat service is perfect. Because of its streamlined design, it offers quick service. Users of Whereby need to share their meeting URL with others for in-browser participation; there is no need to download the app or log in.
GoToMeeting
The Cost-effectiveness of this Teleconference Technology is apt as it Offers Features like: - Sharing screens on computers, tablets, or smartphones. - HD video conferences. - You can record meetings with the Smart Meeting Assistant, and it will automatically provide a transcript. - A hardware kit that includes user-friendly software for web video conferencing. - With the push of a button, business messaging can change from a chat window to a video-calling software platform.
Collaborate with Blackboard
The preferred web video conferencing tool for educators is Blackboard Collaborate. This tool's mobile accessibility enables teachers to communicate with students as they use laptops, tablets, or smartphones. For universities, schools, and colleges, classroom licenses start at $300 per year, departments at $9,000 per year, and enterprise versions are available at unique prices.
Microsoft teams
Web video conferencing is a challenge for most team chat software, or it is given only passing consideration. Not Microsoft Teams, which has some of the most feature-rich video conferencing capabilities available today.
For instance, during our testing for this post, the whiteboard was the most effective. An imperfect circle, for example, becomes a perfect one thanks to the program's smoothing abilities when you draw freehand. This makes it simple to make on-the-spot diagrams and notes. There are also many other collaborative tools available here. For example, the conversation from the meeting is archived in your team chat application. Meeting notes can be taken using a built-in function, and they are also distributed to the team after the meeting. Even better, you can share the automatically generated meeting transcripts.
500Conference
This is a secure, brandable, and embeddable conference webinar solution to enhance your collaboration. The HD video and crisp audio provide a great experience in cloud meetings for all participants of the webinar. The access to unlimited participants in public meetings without constraints of any kind to address the masses conveniently. Its in-built integrations with advanced tools such as Teams.cc, CRM.io, NinjaChat, and more to improve real-time conversations make it a very reliable web video conferencing solution.
Additionally, the monthly charge merely costs $14.99 / month, and the annual subscription is 30% less expensive. In addition to receiving a regularly updated, safe, dependable, and feature-rich web video conferencing application, you also do so for a price that seems to indicate that Black Friday arrived earlier than usual.
Conclusion
Businesses must spend money on video conferencing services equipment to ensure smooth communication given the rise in popularity of remote work. It can be challenging at times to pick the ideal software solution from the sea of options available on the market, many of which promise the same thing. Find out what you need for your company and select one of these 12 video conferencing solutions without any hesitation. They are the best at what they do.
What Makes the Best Video Conferencing Software?
#1
Unlimited Meeting Duration
#2
Live Virtual Meeting Recording
#3
Real-time Chat & Polls
#5
Seamless Secure Meetings
#6
Practical Brand Promotion
#9
Unbelievable pricing - the lowest you will ever find
#10
Everything your business needs - 50 apps, 24/5 support and 99.95% uptime
Join the SaaS Revolution
All-in-One Suite of 50 apps

Unbelievable pricing - $14.99/user

24/5 Chat, Phone and Email Support