8 Top Features to Look for in Virtual Conferencing Software
Conducting a video conference with varying team sizes and guaranteeing the security of conversations is critical for enterprises. Even though video conferencing technology has evolved dramatically in the last decade, various factors must be considered to achieve the best outcomes.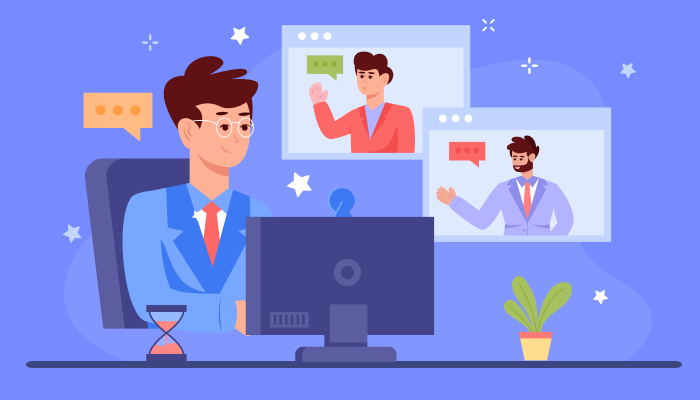 Call recording, secure screen sharing, real-time chatting, private and public meetings all help to elevate the video conferencing experience. Whether the company wants to organize a webinar or host intimate gatherings for project discussions, reliability is key. The following features are among the most important in video conferencing software for virtual meeting tools.
8 Smart Virtual Conferencing Software Features to Have
Screen Sharing
With Screen Sharing, you can capture the attention of attendees, deliver better presentations, and help them understand the objectives better. Make the meeting more entertaining by displaying facts, images, or tool functionality on your computer screen. You can choose what you want to share; it could be a portion of your screen, your entire desktop screen, a whiteboard, or locally stored videos.
To create a more professional and impressive video-sharing experience, you can include audio along with your videos at the conference. You can also share your screen privately so that the attendees can not see your pop-up notifications from other apps.
Video Call Recording
Meetings should be recorded so that they can be viewed later. It will ensure you have all the pertinent information by simply writing down what was discussed during the meeting. Video conferences are recorded so that no important aspect is missed. The virtual conference tool's call recording feature allows you to record high-definition video along with the audio. You can make yourself appear more professional with a nice set of annotation tools in the video call recording section.
You can also inform your participants that they are being recorded to avoid legal snares. The participants are notified when their consent is recorded. With the audio notifications of the video call recording feature, you can alert the attendees when the recording is paused, stopped, or restarted.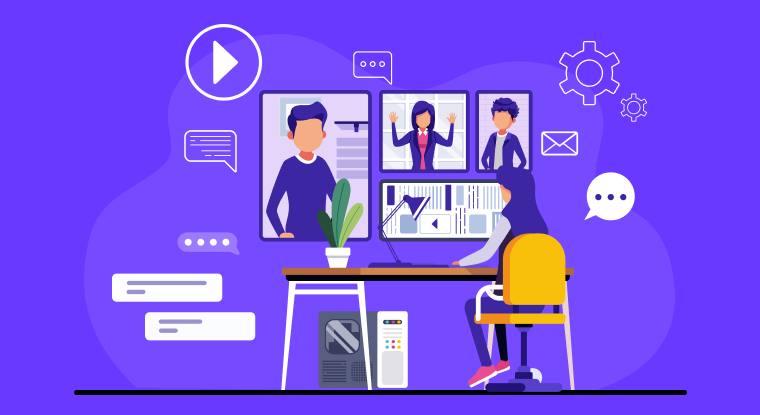 Real-time Chat
Real-time chat allows you to communicate with anyone globally and unlocks instant messaging and reactions. You can prevent others from hearing your potentially private conversations by ensuring that only you and the receiver will have the key to open them.
Real-time chat features allow you to spice up conversations by adding reactions, citations, GIFs, and other visual elements. To ensure faster follow-up in a group chat, tag anyone participating in the group chat and make them feel important. Real-time chat allows you to make your workflow more efficient by forwarding the same message to different conversations simultaneously. The status determiner, located at the top of the conversation window, allows you to determine whether the recipient is muted or not.
File Sharing
The most different files also have a sharing feature that lets you easily share large files without trouble during discussions, ensuring that the meeting produces tangible results. Transferring files to all participants, to a single participant, or in a group chat helps to increase productivity while also improving understanding capability, among other things.
You can drag and drop any file, image, or computer document into the video conferencing software chat window to present yourself professionally during a conference call. You can also allow your non-technical participants to share their thoughts through encrypted file sharing. An easy-to-use interface makes it possible for everyone to share documents.
Private Meetings
You can host private and public meetings in a secure environment with additional encryption and password protection or require formal approval for entry from a moderator. Only the person with a password can join the meeting. Or the host can control participant's access to the conference by allowing or disallowing their join request.
Safe virtual meetings are made possible by using authentication and end-to-end encryption to protect them from cyber-attacks and reduce the likelihood of data leaks during virtual meetings. Internal Virtual Meetings allow you to streamline your team's workflow and interact face-to-face at any time and from any location.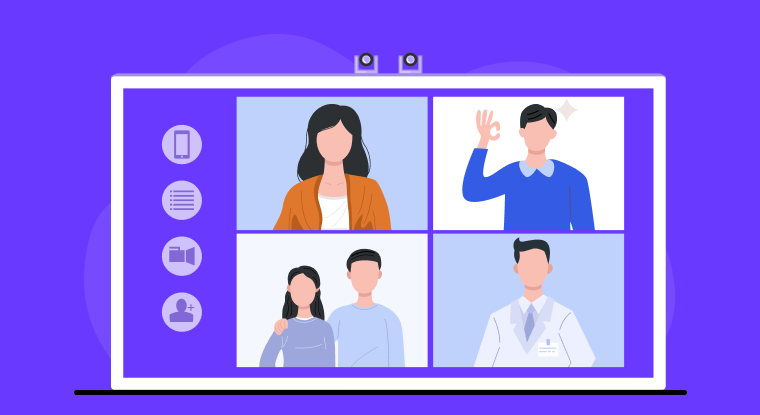 Meeting Management
The host can control the virtual meeting by allowing/disallowing participants, disabling their cameras or mics, and allowing moderator rights to other team members. They can also disable the mic or camera of participants so that the CEO can continue speaking without disturbance. It is a vital feature for high-level discussions that involve personal decision-making.
While conducting management-level conferences, the host may want to check that only allowed members can attend the meeting. The host can also transfer his hosting privileges to another team member or make them a moderator to allow participant entries. Good video conferencing software will enable this facility to delegate rights for smooth meeting management.
Scheduling
You can schedule your meetings using the best virtual meeting software to stomp out procrastination once and for all. With the schedule feature of the best video conferencing software, you can keep your business running smoothly. Meetings should be scheduled to increase your productivity.
You can send notifications of the meeting schedule to all the participants at different time intervals so that they are fully prepared for the discussions. It will ensure that all participants are present on time and avoid missing the meeting deadlines.
Custom Branding
Attending a professional conference with personalized or custom branding exclusively supported by the most reliable technology for virtual meetings will help you make a lasting first impression on others. Custom branding allows you to display any neatly organized background you desire while adding a personal touch to your brand identity.
You can add your company logo to your background with the custom background feature and improve your presentation. During a professional meeting, use the virtual environment to help you overcome the challenge of keeping the room tidy. Make the participants trust your brand by including a logo in your meeting or webinar while conducting a professional conference. Consider using a colour pattern as your virtual background to add a touch of originality. Alternatively, it could be product images associated with the brand or another type of promotional aid.
Conclusion
In the past, full-time remote workers and road warriors only used video conferencing software to communicate with their colleagues. Today, however, it is a reality for millions of people worldwide, and they are using virtual conferencing software to share ideas, ven for smaller projects or discussions.
With video conferencing, you can bring everyone together from anywhere to work and collaborate on projects. There are many options to choose from in the video conferencing market. It is wise to select a tool that allows integration of other devices such as project management, sales management, team chat, and more for more the functioning of the organization without affecting the budget.
What Makes the Best Video Conferencing Software?
#1
Unlimited Meeting Duration
#2
Live Virtual Meeting Recording
#3
Real-time Chat & Polls
#5
Seamless Secure Meetings
#6
Practical Brand Promotion
#9
Unbelievable pricing - the lowest you will ever find
#10
Everything your business needs - 50 apps, 24/5 support and 99.95% uptime
Join the SaaS Revolution
All-in-One Suite of 50 apps

Unbelievable pricing - $14.99/user

24/5 Chat, Phone and Email Support