7 Best Video Conferencing platforms for Smooth Collaborations in 2022
Connect and collaborate virtually with individuals over the internet to achieve a particular objective or plan with employees who are geographically dispersed. Voice, video conferencing, file sharing, screen sharing, and webinars are all used by people all over the world to communicate in a virtual meeting.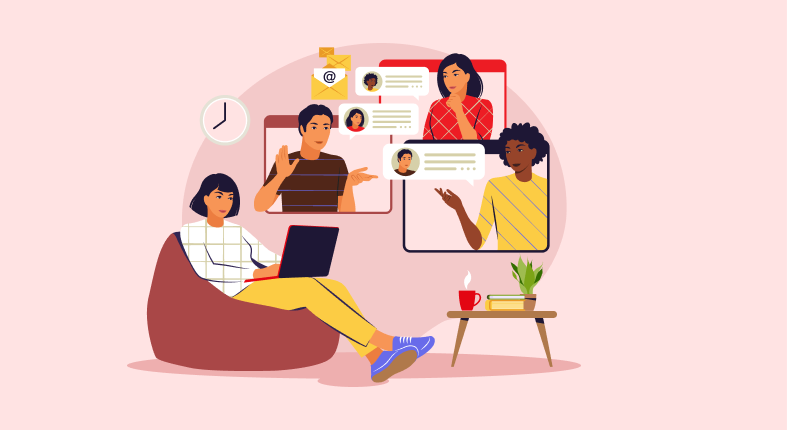 Communication is at the heart of collaboration in every business model. There's no business that can thrive without teamwork and teamwork can't be pursued without collaboration and communication. Sure, you can say that texting and emailing each other is a way of communicating and you're absolutely right. But have you considered how effective is textual communication as compared to talking to someone in person? Obviously, the latter has more weight to it. The reason behind this is that when you talk to someone, you are not only communicating through the words you say but also through your body language, hand gestures, and your tone. In contrast, sending an email omits everything but the words.
That's why the entire premise behind conducting in-person meetings is to ensure effective communication which makes collaboration a lot smoother in businesses. However, with the rising trend of remote work in the industry, many employees are working from their homes or away from the office since they enjoy the freedom and flexibility it offers - which in turn causing an impact on business meeting management capabilites. But this also poses a very important problem, effective communication. Businesses cannot run their operations with employees coordinating with each other through texts and teams can't rely solely on collaboration through emails. So what do we do? We use the power of technology of course.
By using the best video conferencing platforms available like 500Conference, businesses can emulate in-person virtual meetings and collaboration through digital channels. Since the main problem with remote work collaboration is employees not being in one single location, tools like video conferencing platforms bridge this gap. But collaboration can only be as effective as the tools that are used. By using the best tools available, your employees can be at the top of their game since nothing is holding them back.
Let's dive a bit deeper into this whole idea of collaborating through video conferencing tools and then take a look at the 7 best video conferencing tools available in the market.
What are Video Conferencing Platforms?
Back in the day, most of us dabbled in playing video games, be it on the PlayStation, Sega Genesis, Nintendo Super NES, or even the Gamecube. The point is retro games were a part of our childhood. If we stumbled upon our favorite retro game console, it immediately ushers in a wave of nostalgia. We remember all the good times we had with it. But, if we wanted to play those games again to relive those memories, we would either have to get the console and the game from somewhere, which is incredibly difficult, or we could simply "emulate" it on a computer. Our device isn't built on the same hardware as the original consoles, but it can mimic how the original console works so that we can run our retro games.
Virtual meetings is the same concept. It mimics the nature of face-to-face communication and "emulates" it through software that we can use on modern computers and cell phones. We can interact, communicate and collaborate with other people, as we would in our daily lives, all through using a software tool that uses the internet to bridge the gap and connect us while we're sitting in different locations. By creating rooms where people can join, turn on their webcams and mics and talk as if the other person is right in front of them, video conferencing digitizes in-person communication.
How does Video Conferencing add value to your collaborations?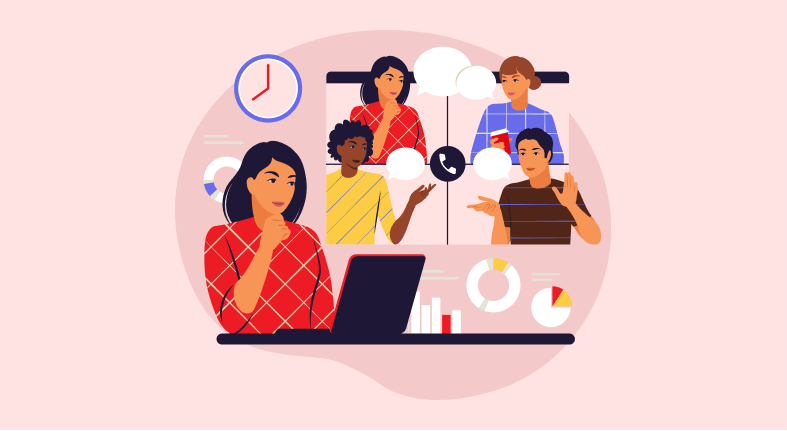 Businesses are consistently looking to implement new technological trends to innovate and grow. The major requirement for many businesses in this day and age is instant and on-demand communication since the rise of remote work culture.
As such, for businesses, collaboration has become a major focus. Video conferencing tools such as 500conference by 500apps add major value to the collaborative efforts of not only employees but team members, team leaders, and different divisions within a single establishment. Some of the major benefits video conferencing tools have to offer for improving and solidifying team collaboration are:
Increased Productivity
Time-efficient
Central Communication Channel
Easy Schedule Management
Improved Task Management
Convenient Video Conference Hosting Features
Instant File Sharing
Screen Sharing
Third-Party Integration
7 reliable video conferencing platforms
With an entire market flooded with different video conferencing tools, sorting through them and picking the right one can be quite troublesome. To save you the hassle of doing the grunt work yourself, here's a list compiling 7 of the best and most reliable video conferencing platforms available:
500Conference
500conference with its extensive toolkit, user-friendly UI, and use of cloud technology makes it the best video conferencing tool for businesses. Not only is this cloud-hosted software solution scalable, but it also includes all the important features a business needs in a video conferencing tool, such as:
Video Conferencing
HD Audio and Video
Screen Sharing
Video Call recording
Real-Time Chat
Secure Meetings
Private Meetings
Video layouts
Public Rooms
Mobile Access
Custom Branding
Scheduling
Meeting Management
File Sharing
What's more, its monthly subscription costs only $14.99 per month and the yearly subscription is even cheaper since it's 30% off. So you're not only getting a regularly maintained, secure, reliable, and feature-rich video conferencing tool but also at a price that makes it seem like Black Friday came early.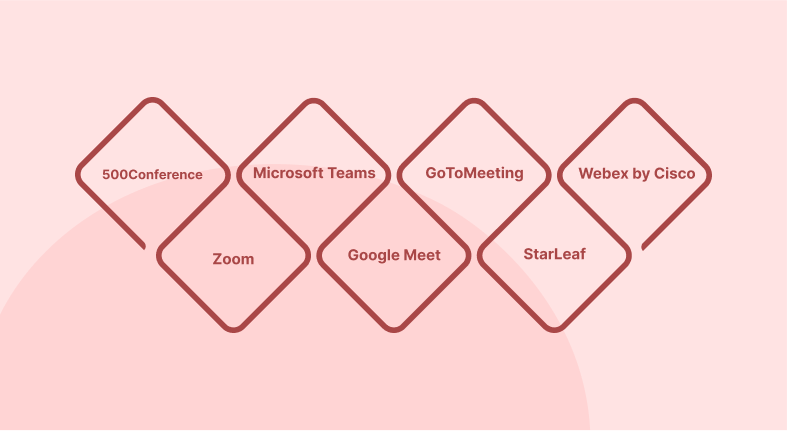 Zoom
Zoom is a popular video conferencing tool owing to its wide slection of features and options. The only downside of Zoom is that two tiers, a paid version and a free version with limited capabilities including the restriction of 40 minutes per meeting which hosts many participants. The paid plans provide much more options to assist with video conferencing and they are inexpensive as well. Zoom has many qualities needed for video conferencing including clear audio and video, screen sharing, whiteboard, chat, breakout rooms, etc. Additionally, its SSL encryption provides a much-needed security layer to meetings and video conferences.
Zoom is a good option if you're looking for a video conferencing tool that is simple, lightweight, and easy to use, although you'll be trading it for more advanced features such as third-party integration.
Microsoft Teams
Another good contender for a video conferencing platform with cloud meetings for your business is Microsoft Teams. This tool prides itself in its interactive design and seamless collaboration with the company's much more popular productivity suite, Microsoft Office. When you purchase a Microsoft Teams plan, alongside basic video conferencing features, you also get web applications of Word, Excel, and PowerPoint, Cloud storage and sharing, and 300 users hosting capacity.
This software solution is a good recommendation if your business heavily relies on Microsoft's productivity apps, especially Word, Excel, and PowerPoint since you'll be able to benefit from their seamless integration into Microsoft Teams. However, this can also become a caveat, since this is one of the major advantages this tool has over other options. If you use Google's productivity suite, then a video conferencing tool that is more feature-rich and offers third-party integration will be a much better option.
Google Meet
Just like Microsoft Teams, Google Meet is part of Google's productivity suite and integrates Google Sheets, Gmail, and Google Calendar, along with the entire range of Google's web applications. This level of integration allows users to make use of quick and easy scheduling features through Google Calendar, Send out meeting invites through Gmail, and easily share documents and resources through Google Sheets.
Google also has two tiers of subscription, a free version, and a paid version. The free version limits each video conference session to 60 minutes and also has fewer features as compared to the paid ones. Although, it lags behind Microsoft teams in terms of maximum user capacity per session which is limited to 100 users.
GoToMeeting
GoToMeeting isn't as popular as the first three contenders in the video conferencing market, but it is still an incredibly polished virtual conferencing software that is jam-packed with features rivaling that of 500conference. It has a trial version to let the users' test drive the features, particularly unlimited video conference sessions and each session is end-to-end encrypted for additional security.
Some of its major features include:
HD Audio and Video
Unlimited Meetings
Screen Sharing
Web Audio
StarLeaf
Starleaf distinguishes itself from the rest of the competition with its own native API allowing for a higher degree of conference customization for end users. It also supports third-party integration such as Slack or Skype for Business and purchasing a subscription also comes with a companion app for Android, iOS, and Windows.
This platform is relatively less costly and focuses on giving businesses freedom in customization and third-party app integration.
Webex by Cisco
Cisco Webex is more geared towards catering to the security concerns of businesses when using video conferencing tools. It has more robust and comprehensive security features such as Transport Layer Security. It is also compatible with the device's firewall and features secure scheduling among many other options.
If you're looking for comprehensive and a highly secure video conferencing app with basic conferencing tools, then Cisco is a very good option.
Conclusion
With remote work culture becoming increasingly popular by the day, businesses have to invest in video conferencing tools to ensure smooth collaboration. But choosing the best one out of a market flooded with software solutions each promising the same thing can be tricky sometimes. These 7 video conferencing tools are the best at what they do, so figure out what you need for your business and choose one without any worries.
What Makes the Best Video Conferencing Software?
#1
Unlimited Meeting Duration
#2
Live Virtual Meeting Recording
#3
Real-time Chat & Polls
#5
Seamless Secure Meetings
#6
Practical Brand Promotion
#9
Unbelievable pricing - the lowest you will ever find
#10
Everything your business needs - 50 apps, 24/5 support and 99.95% uptime
Join the SaaS Revolution
All-in-One Suite of 50 apps

Unbelievable pricing - $14.99/user

24/5 Chat, Phone and Email Support