500Conference vs Teams Virtual Meeting: Picking the Best
When you're looking for the best way to have a virtual meeting, you need to consider 500Conference vs Teams Virtual Meeting.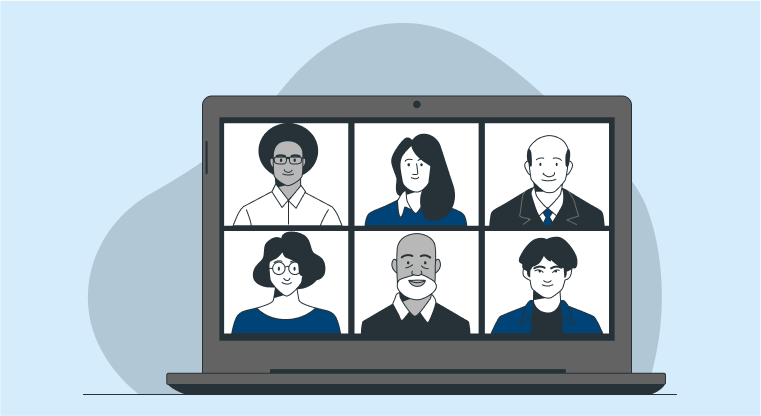 Platforms for virtual online meetings are video programs and services that connect multiple users online. Typically, this software offers screen sharing, chat, reactions, and various types of virtual meetings platforms. 500Conference, Microsoft Teams virtual Meeting, Zoom virtual meeting software, Webex, and Google Meet are a few examples of this software. "Online virtual meeting platforms" is another name that is given to these applications.
What are Video Conferencing Platforms?
Most of us experimented with playing video games back then, whether it was on the Sega Genesis, Super NES, PlayStation, or Gamecube. The idea is that classic video games were a part of our youth. When we come across our favorite retro gaming system, a feeling of nostalgia sweeps over us. We recall all of our enjoyable experiences with it. However, if we wanted to experience those memories by playing those games again, we would either have to find a place to obtain the console and the game, which is quite difficult, or we could just "emulate" it on a computer. Although it doesn't use the same technology as the original consoles, our gadget can emulate how it functions so that we may play retro games.
The idea behind effective virtual meetings is the same. Software that we may use on contemporary computers and cell phones, "emulates" the nature of face-to-face conversation. By employing a software program that connects us while we're sitting in various places and bridges the distance between us, we may interact, communicate, and work with others as we would in our daily lives. Video conferencing digitalizes in-person contact by setting up spaces where people may join, put on their webcams and microphones, and speak as if the other individual is right in front of them.
Analysis of 500Conference vs Team's Virtual Meeting
500Conference by 500apps
The finest video conferencing tool for corporations is 500conference thanks to its robust toolkit, intuitive user interface, and usage of cloud technologies. This cloud-hosted software solution not only has scalability but also all the crucial elements a company needs in a video conferencing application, like:
Video Conferencing
HD Audio and Video
Screen Sharing
Video Call Recording
Real-time Chat
Secure Meetings
Private Meetings
Video layouts
Public Rooms
Mobile Access
Custom Branding
Scheduling
Meeting Management
File Sharing
Its monthly subscription is also only $14.99 a month, and the yearly membership is even more affordable because it is 30% off. This means that not only are you getting a regularly updated, safe, dependable, and feature-rich video conferencing tool.
Microsoft's Teams Virtual Meeting
Microsoft Teams virtual meeting is a strong alternative for video conferencing software with cloud meetings for your company. The interactive style of this program and its seamless integration with Microsoft Office, the company's much more well-known productivity suite, are its main selling points. Along with basic video conferencing tools, a Microsoft Teams virtual meeting package also includes cloud storage and sharing, a 300-user hosting capacity, and Word, Excel, and PowerPoint web apps.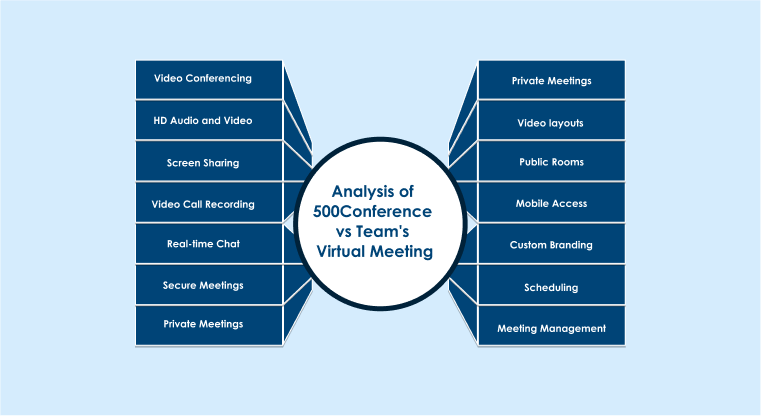 If your company heavily utilizes Microsoft's productivity tools, particularly Word, Excel, and PowerPoint, this software solution is a wonderful suggestion because you'll gain from their smooth integration into Microsoft Teams virtual meeting. Since this is one of the main advantages this technology offers over alternative solutions, this could also serve as a warning. A video conferencing program with additional features and third-party connectivity will be a much better choice if you utilize Google's productivity suite.
Set Up and Ease of Use
You already have access to Microsoft Teams virtual meetings if your team has a Microsoft Office 365 Business or Business Standard subscription. To create, plan, and invite attendees to a meeting, you need a Teams account. Meetings can be scheduled through chat or your Outlook calendar.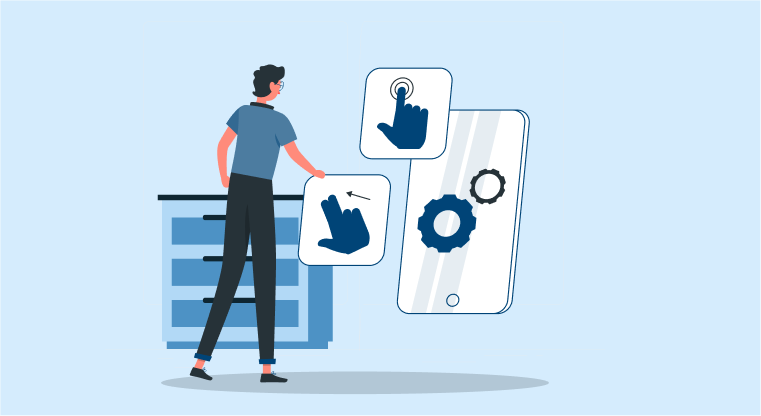 To participate in meetings, you don't require a Microsoft Teams virtual meeting account. Whether you intend to access the meeting via a computer or a mobile device will affect how you connect to sessions.
You must first download the Teams virtual meeting app to your smartphone or tablet before you can participate in a Teams virtual meeting from that device. When joining a meeting on your desktop, you can choose between downloading the Windows program or joining online by clicking the meeting invite link. You can log on to the internet without downloading anything as long as you use either Microsoft Edge or Google Chrome.
Although setting up Microsoft Teams virtual meeting is quite simple, there may be a little learning curve when using Teams meetings in conjunction with other Office 365 products. The pre-meeting app download can be a little challenging for users without Teams virtual meeting accounts. Additionally, there have been issues with Microsoft Teams' dependability, particularly from Mac users. The Microsoft Team app occasionally has bugs, and Microsoft doesn't offer enough help to address problems immediately, especially if you're on the free plan.
Improve your Team Work and Communication with Online Virtual Meetings Today! Sign Up 14 Day Trial
One of the reasons 500Conference has become so well known is because of how simple it is to use. - To organise and schedule meetings, you need a 500Conference account, but not to attend them. Google Chrome, Firefox, Safari, Chromium Edge 80 or higher, Firefox 76 or Higher, and Microsoft Edge are among the supported web browsers.
It is strongly advised to connect to 500Conference meetings using the 500apps since it offers a superior user experience.

While the procedure for joining a 500Conference meeting is comparable to that of a Microsoft Teams virtual meeting, many users believe that it is a little bit simpler and that the meeting experience is generally trouble-free.
Integrations
Word, Excel, and PowerPoint web versions are included with every Microsoft Team plan. Microsoft Teams, Outlook, Word, Excel, PowerPoint, Access, and Publisher are all available as desktop editions of Microsoft 365 Business Basic and Business Standard. Additionally included with Microsoft Business Standard is access to Yammer, Planner, Stream, SharePoint Online, and Microsoft Bookings.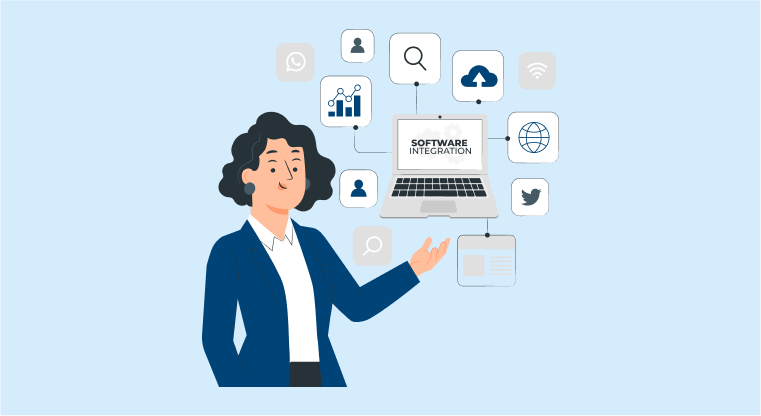 Salesforce, Asana, Trello, MindMeister, Smartsheet, Poll Everywhere, SurveyMonkey, and Priority Matrix are just a few of the 250+ apps that Microsoft Teams interfaces with. Each of these programs also offers a Teams-specific connectivity option.
In addition, 500conference may be combined with 500apps, CRM.io, Teams.cc, and NinjaChat. Such integration aids in increasing team efficiency and production.
Customer Support
The online help center is available for customer support under the free Microsoft Teams plan. Members of paid plans can also access email and chat help 24 hours a day. All paid plan subscribers get access to phone assistance from 6 a.m. to 6 p.m.
The 500conference app also offers support through its online 25/7 help center.
Why 500Conference?
It's frequently advised to select video conferencing software that offers practically any service. The ideal tool should enable you to complete various jobs without the need for additional applications. This describes the 500Conference. You can improve your attendees' video conferencing experience by using this tool. Along with real-time chat, you can also run secure meetings. You can host meetings using the software as well without thinking about how many people to invite or how long to keep the sessions.
The fact that 500Conference may be integrated with other programs is another factor in its top ranking. Never before has teamwork been so exciting.
Finding the best online conferencing platforms could be considered a challenging undertaking. But selecting the ideal forum for your personal or professional needs is simple if you have the right knowledge. The top tools that won't let you down in 2022 are described on this page. Before making any purchases, thoroughly test the software while selecting any video conferencing option.
What Makes the Best Video Conferencing Software?
#1
Unlimited Meeting Duration
#2
Live Virtual Meeting Recording
#3
Real-time Chat & Polls
#5
Seamless Secure Meetings
#6
Practical Brand Promotion
#9
Unbelievable pricing - the lowest you will ever find
#10
Everything your business needs - 50 apps, 24/5 support and 99.95% uptime
Join the SaaS Revolution
All-in-One Suite of 50 apps

Unbelievable pricing - $14.99/user

24/5 Chat, Phone and Email Support