Benefits of Video Conferencing in the Workplace
Video conferencing solutions help reduce the number of unnecessary meetings, make important meetings more efficient, enable virtual face-to-face contact, and provide enhanced team collaboration features like file sharing and line source to reduce miscommunication.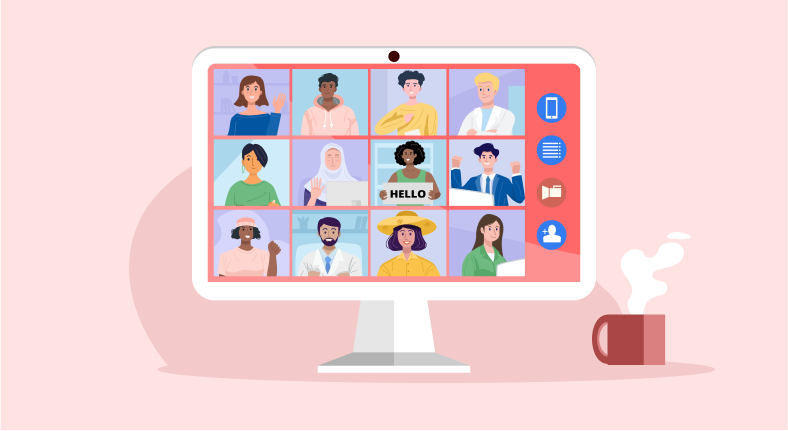 Video conferencing is fast becoming the trend for business interactions across the globe. This is because Its usefulness is profound and well-suited for communicating beyond borders. It's the ideal technology to engage should you need to interact with your employees and other stakeholders who are vital to your business growth.
This article briefly explained what video conferencing is all about; its many benefits for workplace engagement and productivity.
What is Video Conferencing?
Video conferencing is an internet technology that allows facial communication between/among users at different locations. With video conferencing comes the possibility of holding face-to-face meetings using specially equipped applications built for that sole purpose.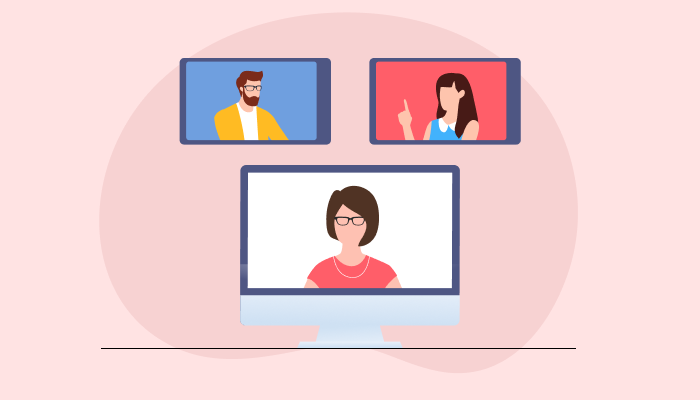 The uses of this innovative technology include:
The conduct of regular meetings
It's a platform for the training and development of a remote audience
Online interview of potential employees
Information Dissemination
Professional meetings with clients, suppliers, and other relevant stakeholders
It is indeed a technology built for convenience as it eliminates traveling stress. Also, it is cost-effective as it helps to save transportation costs and other miscellaneous expenses attached to traveling for physical meetings.
Typically, a video conferencing app has the following features:
Multiple webcam option
Screen sharing for presentations
Chat room
Recording capabilities
HD streaming
File sharing and storage.
Top 5 Benefits of Video Conferencing
The Enormous Benefit of Video Conferencing Include: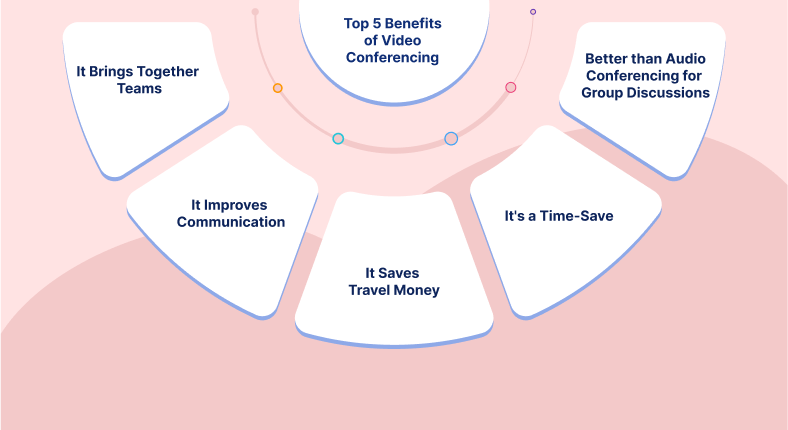 1. Better than Audio Conferencing for Group Discussions
Video conferencing commands a level of concentration that audio conferencing does not command. For instance, while a video meeting is on, employees or team members have no choice but to stay glued to the screen. By so doing, they give undivided attention to the meeting. The screen sharing function helps to provide a thorough understanding of what is being studied or discussed at the meeting. It's only logical to infer that video conferencing is efficient for information dissemination and task allocation.
2. It's a Time-Saver
The time-saving ability of this technology is incredible as it tolerates no form of distraction. A physical meeting may get interrupted by anything. This is unlikely to happen during an online video session. If the transmission is bad, it may lead to the postponement or cancellation of an ongoing meeting with minimal costs.
3. It Saves Travel Money
One of the greatest upsides of this modern technology is its cost-effectiveness and affordability. It's capital intensive for a company with a wide coverage of staff across the globe to conduct physical meetings. This would imply that; the company will have to cover all traveling costs of all participants. A simple video session can help eliminate this cost.
With video conferencing, you can have a dynamic and inclusive talent base with no fear. Feedback meetings could be conducted regularly to track their progress and monitor achievement. The technology is advantageous to the company as it removes and erases traveling expenses and helps an organization maintain its diverse workforce.
4. It Improves Communication
Since Information is best construed when transmitted physically, video meetings are the best pathways for information dissemination. When on a video session, it's as if one is in a physical meeting. The information will be better understood and effectively implemented.
Video conferencing is apt for effective communication because it allows for physical presentations, video call recording, file storage, and file sharing.
5. It Brings Together Teams
Video meetings are also good for team integration. Tasks that are difficult to handle can be approached jointly via video calls. The famous aphorism that one head is better than one applies here. Of course, a team can brainstorm, try different approaches, make valuable suggestions, and arrive at the best solution via video meetings if they work remotely. This is good for maintaining a good team rapport which also extends towards projecting a corporate and unified organizational image.
Conclusion
As already established in the article, you must embrace video conferencing for your workplace communication needs. It's the solution you need to foster effective workplace communication. Having said all that, the flawless technology to choose for the effective coordination of your video conferencing needs is 500conference.com. This platform provides the needed online tools to stay connected with your employees. It offers top-notch services that are affordable and of premium value. You won't regret engaging this platform as it will serve as a viable workplace tool for achieving set out goals speedily.
What Makes the Best Video Conferencing Software?
#1
Unlimited Meeting Duration
#2
Live Virtual Meeting Recording
#3
Real-time Chat & Polls
#5
Seamless Secure Meetings
#6
Practical Brand Promotion
#9
Unbelievable pricing - the lowest you will ever find
#10
Everything your business needs - 50 apps, 24/5 support and 99.95% uptime
Join the SaaS Revolution
All-in-One Suite of 50 apps

Unbelievable pricing - $14.99/user

24/5 Chat, Phone and Email Support