7 Best Platforms for Effective Virtual Meetings
Looking for the best platforms for effective virtual meetings? Check out our top 7 picks to help make your next meeting a success.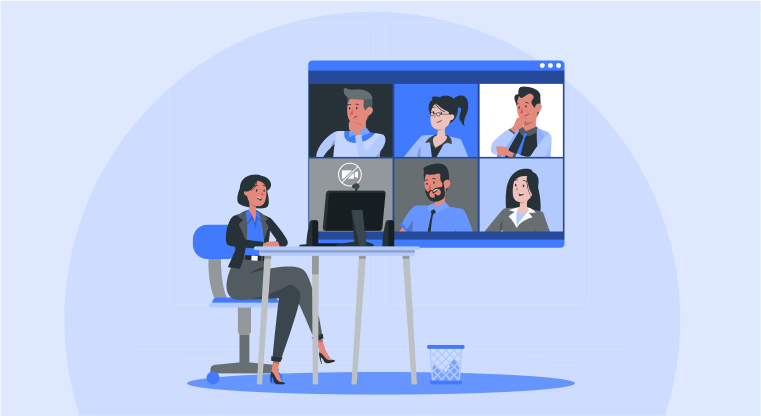 Even if the email is quick and simple, in-person meetings still have the edge. In actuality, face-to-face interactions are 34 times more effective than email conversations. The desire for more intimate talks can truly only be met by video conferencing software as more people work remotely, travel, and have flexible schedules.
Thankfully, there is a sizable industry with countless possibilities for various kinds of video conferencing software. The ideal option for your business will rely on a variety of elements, including the number of employees you have, your financial situation, and any specialized features you might require.
In order to make it easier for you to choose which video conferencing software would work best for your business, we've broken down the top 7 options for 2022. We also give you a brief overview of the necessary video conference equipment.
Effective Virtual Meeting Platforms for More Productive Meetings
Google Meet
Google Meet should be your primary choice if you currently use Google Workplace. The majority of the features you would often have to pay for are included, like polls, a tiled layout, background blur to reduce distractions, unlimited calls and duration, and more.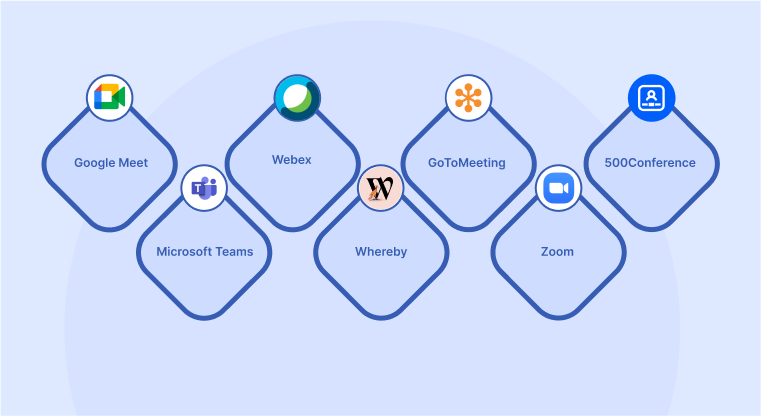 Unique points of using Google Meet include:
There are no apps to download for Google Meet because it is a component of Google Workspace and operates purely in your browser, just like Livestorm.

While the Workspace Individual plan limits you to 100 guests and saves meeting recordings to the host's Google Drive, the Google Workspace Enterprise plan includes extra features including noise reduction, up to 250 attendees, and participation reports.

Google Meet also offers 2-step verification and anti-abuse capabilities, which are further security advantages.
Microsoft Teams
Start using Teams meetings if you already work for Microsoft. When compared to the majority of other effective virtual meetings system, Microsoft Teams virtual meeting is unparalleled and offers fantastic collaboration tools. Additionally, it seamlessly integrates with every version of Windows and Microsoft Office to make collaboration easier. As it attempts to steer people toward Microsoft Edge, one drawback is that it can be a little awkward with some browsers.
Unique points of using Microsoft Teams:
The Microsoft Teams business communications platform includes effective virtual meetings capability. It's simple to arrange effective virtual meetings through your team's Outlook calendar and record sessions because it was designed to function as part of that Microsoft environment.

Additional capabilities include shared whiteboards, virtual backgrounds, and the option for attendees to splinter off into smaller groups before returning to the main meeting space later.
Webex
Another of the more well-liked effective virtual meetings platform is Webex from Cisco, which is favored by many Fortune 500 firms. Changing presenters, passing mouse and screen control, and instantly creating whiteboards are all simple processes. For those who use Firefox or Chrome, you might need to make some tweaks because it can be a little problematic if you don't use Microsoft Edge.
Unique points of using Webex:
With features like screen sharing, breakout rooms, virtual backgrounds, and live polling, Webex is an easy-to-use effective virtual meetings platform.

The "actual gesture" emojis are a fun extra feature; if you make a real-world thumbs-up gesture in front of your screen, the platform's AI will recognize it and turn it into a reaction emoji. The software also integrates well with the Apple iPad for live illustration.

Meeting recordings are emailed to participants, much like with Livestorm (but with Webex, this may take up to 24 hours).
Whereby
There is another free effective virtual meetings tool in the market called whereby. It's a lot more competent than its competitors because of the simple customizing options, the brainstorming element, and the visual engagements. You may even start meetings that improve your customer service by starting the video with the option to embed it on your website. Whereby one can only hold 12 individuals in a meeting at once while being simple to use and available for free. This might take it out of the running for bigger businesses.
Unique points of using Whereby:
You may quickly incorporate effective virtual meetings to involve people outside of the firm, such as clients and guests, without the need for any apps or downloads.

It is a great tool for conducting online meetings and video calls.
GoToMeeting
There is no denying that GoToMeeting has a more business-like vibe. It is based on making it simple for users to utilize. It is easy to use and has a little learning curve. It's also a fantastic option for people who use mobile devices. Nevertheless, GoToMeeting is a virtual conferencing software without a free plan, so you'll have to pay for its capabilities.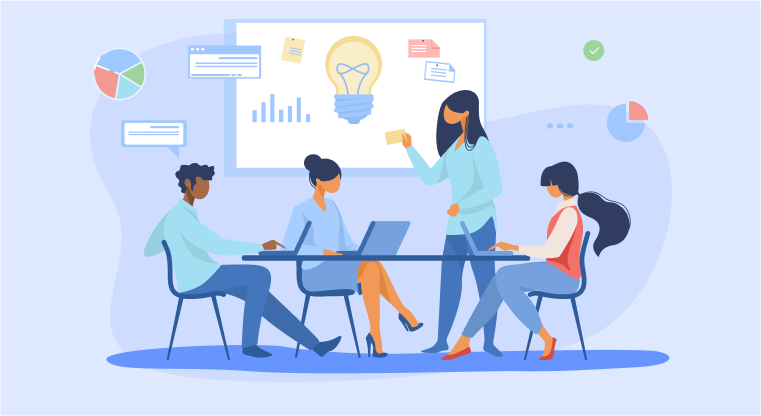 Unique points of using GoToMeeting
The GoToMeeting Business package features unlimited meeting recording storage, up to 250 virtual meeting attendees, and a smart assistant for transcriptions.

The GoToMeeting Scheduler or a plug-in must be downloaded in order to schedule effective virtual meetings in advance.

Both the file-sharing and in-room conversation features are constrained, similar to Webex.
Zoom
For webinars, online training, presentations, and remote effective virtual meetings Zoom virtual meeting is a straightforward, cloud-based effective virtual meetings software. Zoom is brimming with features to simplify remote communications, and it offers a variety of optional extras, such as increased storage, toll-free dialing, webinars, and integrations with many services and apps (including but not limited to HipChat, Slack, Salesforce, Google Chrome, Blackboard, Dropbox, and Microsoft Outlook).
Improve your Team Work and Communication with Online Virtual Meetings Today! Sign Up 14 Day Trial
Communication is quick, easy, and fluid thanks to Zoom's clear images, active voice detection, and a well-organized primary video screen with mouse-over controls.
Unique points of using Zoom:
With tools like polls, whiteboards, breakout rooms, virtual backgrounds, Snapchat-like effects, and reports, Zoom is a high-performance effective virtual meetings platform.

Meeting recordings are accessible via the Zoom Cloud meetings, which offers unlimited storage as part of the Enterprise package. Up to 300 people can attend your event with the Business plan, and you can invite more people for a fee.
500Conference
With its many capabilities, the 500Conference app functions as a dynamic video calling software. The impressive capabilities offered by the 500Conference app fiercely rival the cons of important video conferencing programs like Zoom and Google Meet. The diverse pricing plans and payment alternatives are both enticing and useful. The pricing plans are affordable and provide standard features to all customers. As a result, you can select a pricing package that includes the components your company may require.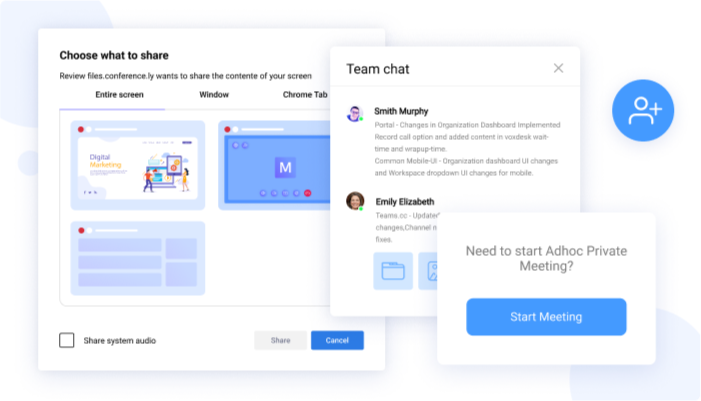 The user interface, or UI for short, of the 500Conference application, provides a stunning, streamlined user experience that makes it easy for users to access all the necessary functionality. You don't need a manual to set up your 500Conference app because of its distinctive and user-friendly interface. The 500Conference application offers more than just a pleasing appearance and a user-friendly interface. The UX and overall app operation are efficient and practical. You are presented with a highly responsive application that is guaranteed to give you a positive user experience rather than struggling with bad controls or bugs.
Unique points of using 500Conference:
The 500Conference app is a fully functional video conferencing solution for a reason. It stands out due to the variety of features and designs it offers. Some of its attributes are:
The 500Conference software offers high-end encryption to meetings in addition to the basic meeting setups that only permit access to those having the meeting login details in order to prevent unauthorized access to forum and user data.

The 500Conference application's conference recording capability is a key component. Real-time reminders of meeting topics and decisions are where this is most helpful.

The restrictions placed on the number of attendees per meeting and the total meeting duration using video conferencing programs are significant drawbacks. This frequently results in rushed sessions and prevents access once a number of attendees have shown up at the conference.
However, by allowing limitless guests and meeting time, 500Conference changes the narrative.
Which Effective Virtual Meetings Software Suits You Best?
Consider your genuine needs before choosing which of the top video conferencing programs to use. For example, someone who merely wants to have a few casual discussions may find that a free option is the most cost effective and provides all of the necessary basic features. However, you should think about looking at the more expensive options if you plan to use video conferencing for work or business, especially frequently and with a big group of people as well as the types of virtual meetings you want to conduct. We recommend trying 500COnference to scale up your business and boost your team's productivity.
What Makes the Best Video Conferencing Software?
#1
Unlimited Meeting Duration
#2
Live Virtual Meeting Recording
#3
Real-time Chat & Polls
#5
Seamless Secure Meetings
#6
Practical Brand Promotion
#9
Unbelievable pricing - the lowest you will ever find
#10
Everything your business needs - 50 apps, 24/5 support and 99.95% uptime
Join the SaaS Revolution
All-in-One Suite of 50 apps

Unbelievable pricing - $14.99/user

24/5 Chat, Phone and Email Support