How to Make the Most out of Virtual Video Conferencing?
You can make the most out of virtual video conferencing by following these simple tips. By doing so, you will be able to improve your collaboration skills.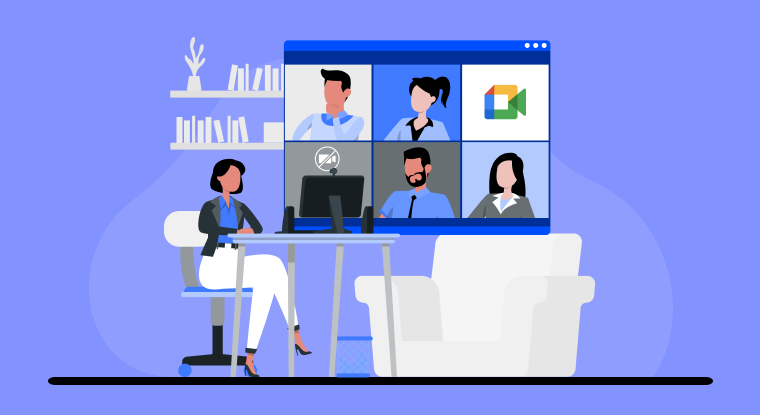 The corporate world as we know it has quickly changed due to technological improvements. It's crucial to keep up with the most recent remote work tools in order to operate from home with confidence as a growing number of business professionals choose not to co-locate.
Video conferencing software is arguably the most important tool, and without it, you won't get very far. In-person conversations and face-to-face contact are unnecessary when using video conferencing, but there are a number of distinctions that you need to be aware of before using it.
All about Virtual Video Conferencing
A live, visual link between two or more distant people via the internet that mimics a face-to-face conference is known as video conferencing. Video conferencing is crucial because it brings together individuals who ordinarily would not be able to interact face-to-face. The simplest form of video conferencing enables the transmission of text and still images between two locations. When completely developed, it will be able to transmit both full-motion video and audio between several places.
Desktop video conferencing is a crucial part of unified communications systems in the business world, which also have a call and texting features. Numerous vendors also offer standalone on-premises and cloud-based online video conferencing platforms that may be integrated into commercial applications like Telehealth, customer service, and distant learning. These platforms support desktop and room-based video.
The widespread use of cloud meeting services makes it possible for businesses to employ video conferencing with little initial outlay and to benefit from quickly developing AI-powered capabilities that enhance audio and video quality.
Benefits of Virtual Video Conferencing Services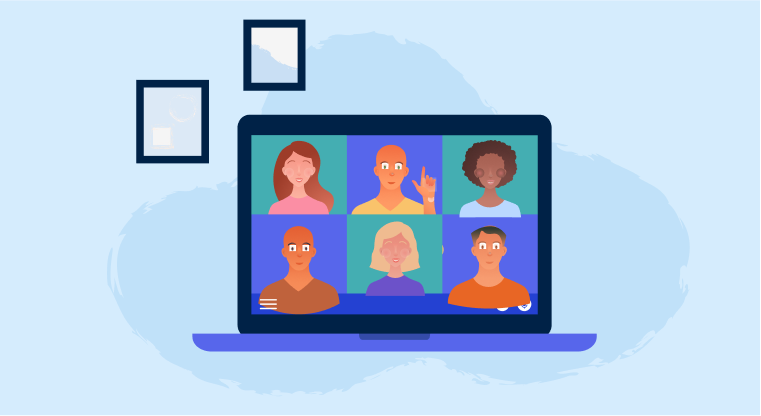 Services for video conferencing have several advantages. They can improve communication and interaction with coworkers, partners, and clients in enterprises, as well as increase employee efficiency.

Reduced travel expenses for businesses, particularly for employee training, as well as shorter meeting and project timelines due to increased team interactions are just a few of the real advantages of video conferencing. Better virtual sales meetings can help businesses generate more income.

A better sense of connection among business connections, both within and across organizations, as well as with customers, as well as more effective meetings with the transfer of nonverbal communications are just a few of the intangible advantages of video conferencing.

On a more intimate level, face-to-face interaction helps participants to form closer bonds with people they might never actually meet. Since the COVID-19 pandemic began, many businesses now employ video conferencing for social events and community-building activities including happy hours, lunch & learns, health and wellness events, and games.
Making Virtual Video Conferencing Realistic and Personalized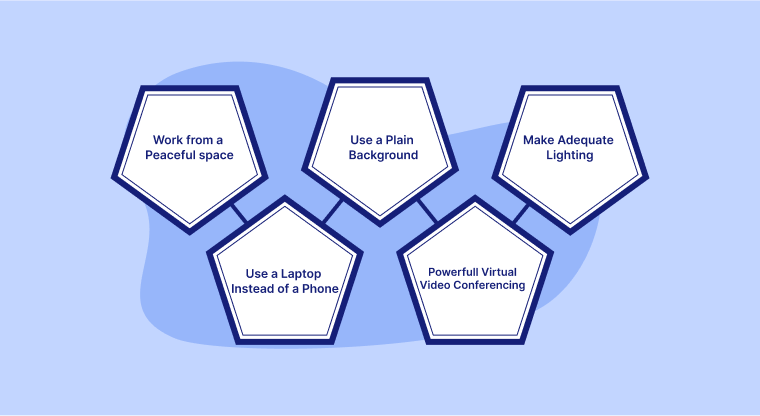 Create Your Workspace in a Carpeted Area
If your room is vacant and has no carpet, the audio may be hollow and echoey, which may be distracting to others. Web video conferencing typically sounds best in carpeted, softly furnished spaces. Even placing a rug on the flooring and some floor cushions in the room might lessen resonance and produce a warmer sound if the space you're trying to call from doesn't have carpet.
Use a Plain Background
The safest course of action is to merely have a neutral-colored wall in the background, though professional-looking houseplants, bookcases, or photo frames in your backdrops aren't necessarily a problem. Gray or white tones might be particularly effective. Everything that is distracting in the backdrop will take attention away from what you are saying.
Make Adequate Lighting
Rooms with low lighting appear old and unprofessional. Make sure you have a bright, soft light on your workstation that can shine on your face throughout the video chat. I suggest placing two LED desk lamps that can be adjusted for brightness and color along either side of your camera pointed at your face so you can adjust it to the illumination of the day and produce uniform illumination on your face. Even one big lamp will do.
Use a Laptop Instead of a Phone
Contrary to popular belief, a lot of people choose to conduct conference calls using applications on their smartphones since they are often quite user-friendly. Not a wise move. When you call from your laptop or desk computer, you can easily take notes and maintain a solid picture, which is practically hard when you're holding your phone or attempting to balance it on your desk.
Install Virtual Video Conferencing Software
Learn how to set up a virtual conferencing software and utilize the virtual video conferencing software before you attend the meeting. It can be fairly daunting with the abundance of video conferencing applications and software available. While some individuals might be accustomed to 500Conference, others might favor Zoom, Teams, Meet, or any other program. These virtual video conferencing programs all have different built-in capabilities. You must test out and attempt to learn the fundamental functions of the video conferencing application before you attend.
Improve your Team Work and Communication with Online Virtual Meetings Today! Sign Up 14 Day Trial
500Conference, an Emerging Virtual Video Conferencing Platform
500Conference is a great choice if you're seeking the most efficient video conferencing program with a video recording capability. The software is designed to make working with others and communicating with them more productive and efficient.
You may adjust the meeting invite URL, personalize your corporate logo, and do a lot more with 500Conference. During your virtual meetings, you should expect HD video and audio, which will keep your attendees interested in the proceedings. It has a number of connected technologies, including NinjaChat, Teams.cc, and CRM.io.
You can use 500Conference's several effective features to assist with your virtual meetings. These consist of Video call recording, Video conferencing, Meeting scheduling, Screen sharing, File sharing, Mobile devices, Video layouts, and Personalized branding. Other alternatives to 500Conference virtual video conferencing include cisco webex video conferencing and blue jeans conferencing.
Creating Virtual Video Conferencing with 500Conference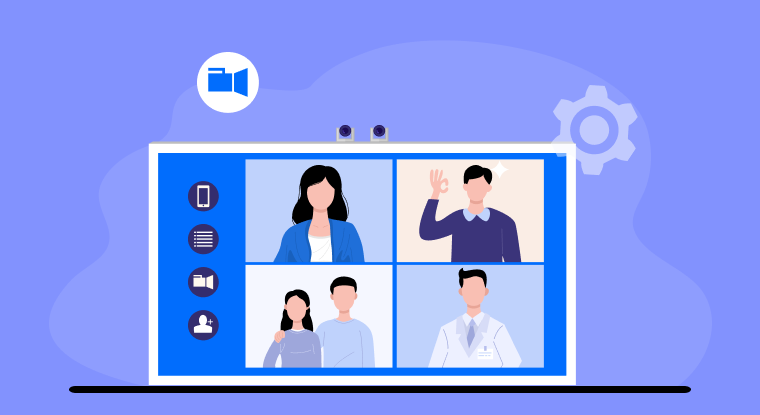 Making video calls using 500Conference is comparatively easier than using other applications.

Downloading the application and registering as a user comes first. After that, a trial version plan allows you to start a video call. However, it would be beneficial if you chose the $14.99 premium plan.

It is simple to sign up, and as long as you have your devices connected to the internet, you can start making calls after signing up. Following that, you use an automatic link to invite additional participants. The fact that you can create either an open-access URL or an encrypted link is interesting to know.

Maximum security and secrecy are ensured when using 500Conference. You can create an encrypted link if you don't want anyone listening in on your call or interfering with it. Through this connection, only people you authorize access to can attend the video call. The permit may be revoked whenever you see fit.
Conclusion
Online conferencing can have benefits and problems, just like anything else. Unfortunately, it may also increase the level of disengagement among your workers during a meeting. The difficulty is in keeping them attentive and involved during the conference.
500Conference is a prominent virtual video conferencing platform. This feature-rich program enables face-to-face interaction and communication with your distant workers. Additionally, this program makes it easy to plan seminars and conferences.
One of the top software developers in the world, 500apps, is the maker of 500Conference. To take care of all the needs of managing your business, they provide more than 50 apps. In other words, 500apps equips your staff with the necessary tools to manage a variety of projects, workflows, and tasks. This software will provide you with the best virtual video conferencing experience and help you boost your team's synergy.
What Makes the Best Video Conferencing Software?
#1
Unlimited Meeting Duration
#2
Live Virtual Meeting Recording
#3
Real-time Chat & Polls
#5
Seamless Secure Meetings
#6
Practical Brand Promotion
#9
Unbelievable pricing - the lowest you will ever find
#10
Everything your business needs - 50 apps, 24/5 support and 99.95% uptime
Join the SaaS Revolution
All-in-One Suite of 50 apps

Unbelievable pricing - $14.99/user

24/5 Chat, Phone and Email Support