What is Video Conferencing Software?
Video conferencing is a live, visual link over the internet that replicates a face-to-face conference between two or more remote participants. Video conferencing software is one of the most effective technologies businesses can use to streamline operations and meet deadlines.
Numerous technological innovations characterize the 21st century. The use of state-of-the-art tools and software solutions has redefined the workplace culture and ethics. Now, employees and administrators can effectively carry out their official duties in different remote locations. Video conferencing software is one of the most effective tools companies can use to simplify their work operations and meet schedules. This piece will teach you the meaning, features, and tips of video conferencing software.
Our Complete Guide to Video Conferencing Software
Are you planning to install video conferencing software in your organization? Or are you trying to decide which software solution to adopt? We've compiled a guide to provide you with valuable information on everything related to video conferencing software. Let's begin!
What is a Video Conferencing Software?
Video conferencing software can be defined as a tool applied by different parties who plan to establish a secure audio and video communication link. This software supports live conferences and remote meetings by transmitting video, audio, or text messages. These tools have become increasingly popular for quite some time as more organizations try to ensure that their employees can work remotely. Furthermore, the COVID-19 pandemic caused a spike in the use and integration of these tools for workplace interactions. Some advanced video conferencing tools may also support files sharing, and the use of electronic whiteboards.
Depending on the size and type of business, there are different video conferencing software. Many organizations instantly apply these tools to connect with their friends and partners worldwide. They can spur increased productivity, work efficiency, and reduce communication costs. Some of these tools may be integrated into the business's communication system, while others are applied as standalone software solutions. Before investing in any of them, it's essential to know how they work, their key features, and the benefits that they offer your organization.
How to Use a Video Conferencing Software?
Today, the use of video conferencing software has become quite popular. Most companies now use this tool to connect with their employees and partners in different parts of the world at a reduced cost. Instead of booking a flight to attend a meeting in another country, everyone can sit in front of their laptops or desktops and interact as if they were in the same room. These tools support smooth communication and guarantee effective collaboration between multiple parties.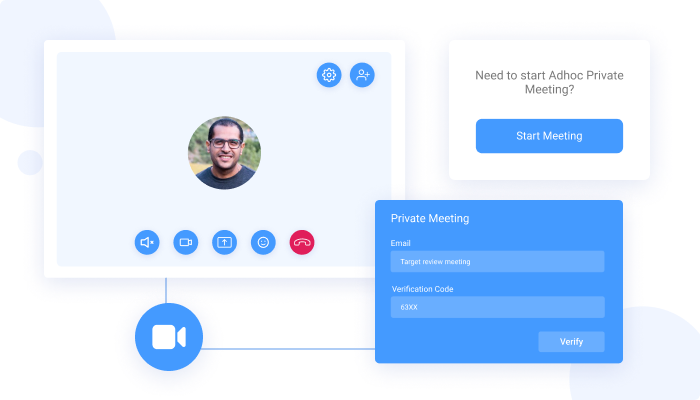 Video conferencing tools are now widely used globally and accessed from different computers and mobile devices. For video conferencing involving multiple participants, users can sit close to each other in a virtual conference room and enjoy simplified communication. Cloud-based software also allows small and large companies to integrate state-of-the-art video conferencing tools without spending too much on physical hardware.
There are different types of video conferencing software, such as desktop, room-based, and telepresence video conferencing tools. They all have unique features and are applied to suit the needs and budgets of users.
Features of Video Conferencing Software
What are the features of video conferencing tools? What do they enable users to do? These software solutions have multiple features that can be applied for smooth and swift communication between various parties. More features are currently being developed as the world welcomes new technological innovations. These are now some of the main features of video conferencing software:
Chat Software
While most video conferencing tools are designed for audio communication, they also support chatting between users. Their chat software is an alternative means of communication when the network connectivity isn't strong enough to support video and audio calls. These chat forums are a secure means of communication between multiple parties. Most chat sessions are securely restricted between both parties. Moreover, you can save chat logs for future reference.
Application Sharing
Video conferencing tools support collaboration between multiple parties. But they also come with an app-sharing feature. App sharing allows multiple users to use an application running on a single device. This feature ensures that users can view files even when they don't have the software.
Electronic Whiteboards
Video conferencing tools support electronic whiteboards. This feature allows multiple participants to type, draw, and create content on an electronic board. These whiteboards also support instant sharing or uploading of documents or images. You can use the board to circle and point out specific areas of an image. Additional support features of electronic whiteboards include pointers, zoom control, and shape makers.
File Transfer
This feature allows video conferencing app users to share files among themselves. This action will smooth collaboration between multiple parties. To successfully send and receive files, they need to install an FTP server and FTP clients. This server connects users and lets them request files at any time. However, care should be taken when transferring files to avoid leakage of confidential information.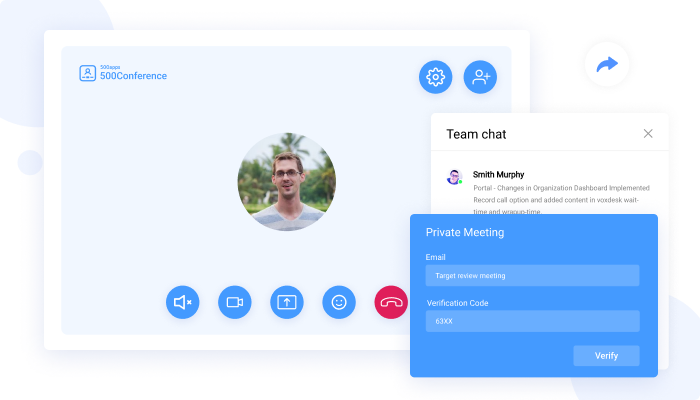 Which Video Conferencing Software to Use?
There are many different types of video conference solutions on the market, and each of them offers users something unique. Therefore, you need to pick a software solution that suits the size and demands of your organization. If you are interested in suitable video conferencing software for your business, we recommend 500conference.com.
500conference.com is a simple tool that lets users take their video conferencing to the next level. It's designed with state-of-the-art features such as screen sharing, call recording, private messages, mobile access, and real-time chatting. Users can use it to host team meetings for unlimited hours. There's also no limit on the number of participants that can connect to a video conference at any particular point in time. In addition, this tool can be integrated with multiple applications simultaneously for a better experience.
Conclusion
And that's all about the meaning and features of video conferencing software. This article contains all the information you need about this innovative software solution. If you're looking to incorporate a simple video conferencing tool into your company's work operations, you can opt for 500conference.