What is a Video Conferencing Platform?
Since the start of COVID-19, video conferencing platforms and software have been in the news. There is a huge demand for internet conferencing products as more organisations strive to work remotely.
Video conferencing platform or software has hit the headlines since the onset of COVID-19. With more businesses striving to work remotely, there is a high demand for online conferencing tools.
Video Conferencing Software Defined Video conference platform refers to a tool that facilitates online communication for video meetings, audio meetings, and seminars. A video conference platform has built-in communication features like screen sharing, chat, and recording. These applications are integrated to streamline remote communication and enhance collaboration among teams.
Video Conferencing Features You Need Since you will evaluate various video conference software based on their features, the top features to look out for include:
Screen sharing
Chat features
Unlimited meetings
Unlimited recordings
HD video
Branding features
Dynamic presentation features
Performance reports
With this list of the features a good video meeting tool should have, you may still want to compare a few tools before choosing the best. Unfortunately, this is an engaging process that will take time to complete. For this reason, we've done the research for you, and below is a look at the best software in the market that meets your online meeting needs.
Best Video Conferencing Software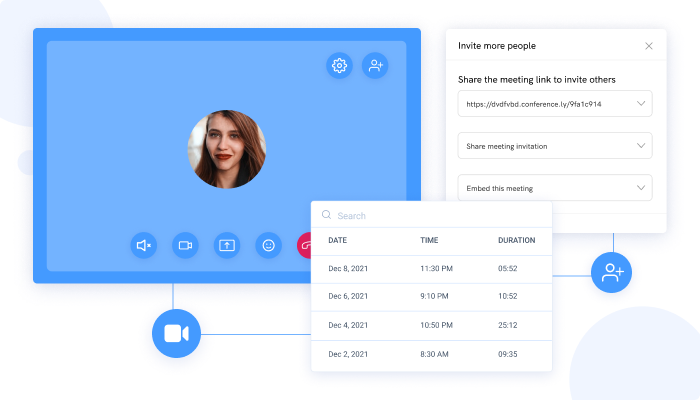 What makes a good tool? Top-rated applications are often evaluated by most people online. Therefore, searching for the best software might not be an issue because you simply need to check reviews and determine whether the software fits your budget. 500Conference fits this description. Here's a look at what this software brings to the table.
500Conference
500Conference is a product of 500Apps. This powerful video conference solution can enhance your online communication in many ways. With this tool, you can transform your video conferencing experience with real-time chatting mobile also access, call recording, private& public meetings, and secure screen sharing. 500Conference also allows you to make the best out of integrations and widgets. You maximize the perks of this software by integrating with other apps like CRM.io, Teams.cc, NinjaChat, etc. The widget can be added to your business website so you can host online meetings with just a click. The pricing is also friendly since you can use all the software's premium features for just $14.99.
Benefits of Video Conference Software
You may have guessed that there is a lot to gain by using video conference software. Besides enhancing communication, there are other reasons to invest in this software.
1. Connects Teams
Video conferencing brings teams together without the need to travel. Your employees can conveniently work from home and collaborate using 500Conference. This software's handful of productivity features makes it even easier to communicate and work efficiently from anywhere.
2. Improves Productivity
Your teams may want prompt responses to ensure projects run smoothly. In such cases, a video conferencing platform can help. You can hold a quick call with any member to clarify details and proceed with the project. If this is what your entire team will be doing, productivity can be greatly improved.
3. Better Attendance Management
Are you tired of postponing meetings just because some of your team members can't avail themselves? Well, holding virtual meetings can help to alleviate this. Online meetings provide your employees with the convenience of attending from anywhere. In addition, a reliable tool like 500Conference provides mobile also access. Therefore, any device with an internet connection can connect you to your teams. So, expect something close to 100% attendance.
Conclusion Change is inevitable. Give your employees a break from the need to attend conventional meetings. Instead, why don't you take advantage of technology and provide virtual meetings? You've noticed that you can gain a lot from this post by using 500Conference or any other video conferencing tool. It's high time that you took communication to the next level in your company. Think about it!