Does Slack Have Video Conferencing? Better Alternatives
Slack is a messaging platform for businesses. It's an excellent communication tool. However, it lacks video conferencing. Due to the unavailability of video conferencing in Slack, some firms may decide to use alternative platforms.
Video conferencing has greatly transformed how we communicate. Businesses and individuals alike have found it important to have reliable video call recording tools. Engaging with people face to face without necessarily meeting them is better than calling them. Businesses have used this to their advantage to ensure that employers and employees can hold meetings more frequently. Video conferencing tools are generally more efficient, and they connect teams in a better way compared to conference calls.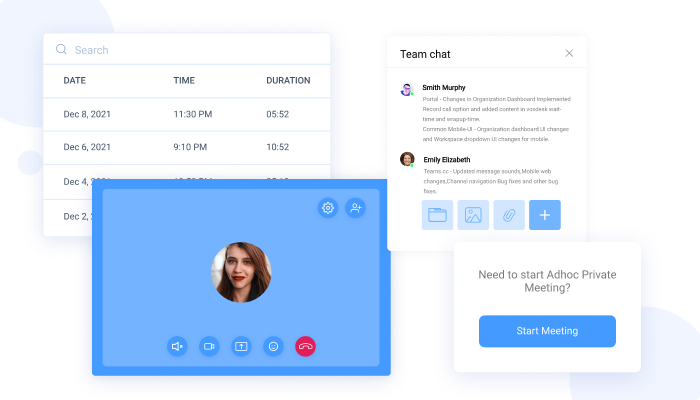 Slack and Video Conferencing
You might be reading this critique because you are wondering whether Slack has a video conference feature. Well, Slack allows for video conference. Most Slack users often use this software to engage with their teams. However, a few people and companies are aware of this software's video conference feature.
While Slack allows you to meet online with your teams, the limited features that this tool offers should signal you to think of better alternatives. For instance, if you use Slack to interact with your teams, you will have to find an alternative software because your messages get deleted after two weeks. Another major issue with this software is that you can easily get distracted. You can quickly get distracted when there is so much to keep up with in your company. Their small file storage capacity can also be frustrating, especially if you are looking for a tool that allows you to record your video meetings.
So, which are these alternatives you should turn to?
Slack Software Alternatives
500Conference
500Conference is the best virtual conference software that is built to deliver. It's a product of 500Apps. This tool will enhance your online communication in ways you've never seen before. Some unique features you get in this software include real-time chatting, screen sharing, mobile also access, call recording, and private & public meetings.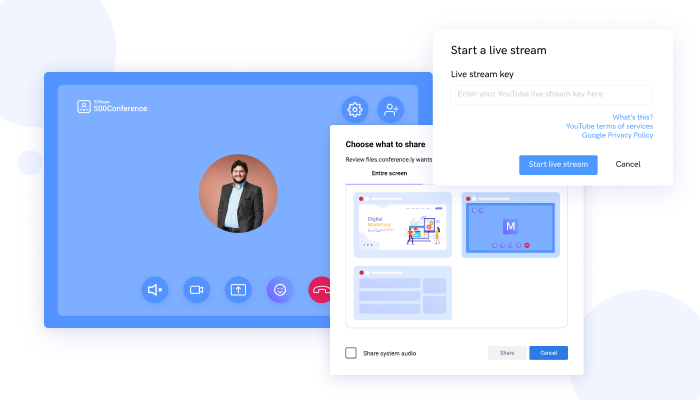 What should make you choose 500Conference over Slack?
Well, 500Conference is an all-in-one video conferencing platform. There is so much you can do with this tool. Besides organizing your online meetings, you can hold polls, share screens, engage in live webinars, and so on. Another interesting feature of 500Conference is that you are not limited to hold meetings for as long as you want. This is a feature you won't get on Slack. In terms of integrations, you are free to integrate popular productivity apps like CRM.io, NinjaChat, Teams.cc, etc. All these apps can be easily accessed since there are widgets to help you streamline your workflow.
Chanty
Chanty is another good alternative that can be used instead of Slack. The software can be used across multiple platforms, including Android, Mac, Windows, iPad, and iPhone. One thing you will love about this chat tool is that it comes with an easy-to-use interface. Your teams won't have to worry about learning how to use this software. Their unlimited storage space is also a feature that makes it worth your time and money. Chanty provides for a great collaborative environment. Expect your teams' productivity and efficiency to improve when using this tool. However, Chanty's video conferencing feature might provide you with limited functionalities.
Zoom
Zoom video conferencing needs no introduction. People and businesses have used this software because of the many options it offers for every plan. In terms of video quality and audio, Zoom doesn't disappoint. Moreover, it has an instant sharing feature that allows teams to collaborate effectively. Top features that Zoom offers include: meeting recording, whiteboarding, screen sharing, online support, breakout rooms, etc.
GoToMeeting
Another great remote meeting software that still hits the headlines to this day is GoToMeeting. This software has all the useful features you would want in a video conferencing tool. Besides, it's user-friendly, which means your teams will take the shortest time to learn how to maneuver from one end to the other. Exciting features to use here include messaging, HD video, 24/7 support, screen sharing, etc.
Final Verdict
While Slack allows for video conferencing, the cons of this software will drive you to look for alternative software. You want to get the most out of video conferencing platforms without limitations. We've pointed out to you some of the best software online, including 500Conference, Zoom, Chanty, and GoToMeeting. These are tools that have been proven to deliver when it comes to holding video conferences. So, consider choosing the best that meets your business needs.