The digital age has made virtually everything you can think of easy and more innovations keep turning up every day.
Video conferencing is one of the most underrated forms of communication, but you may have decided to stop underutilizing it if you're reading this.
Within this short written piece, you'll get to learn more about video conferencing, what it entails, its types, and exactly how it works.
Read on to find out.
What Is Video Conferencing?
It is a technology that enables communication by simulating a face-to-face meeting between two or more people and locations.
The technology transmits text, audio, video over the internet through a platform, and this happens in real-time over a high-definition video and audio connection/signal.
If that seems a bit too difficult to understand, think about it this way; on an active phone call, only you and the other person on the line can see each other.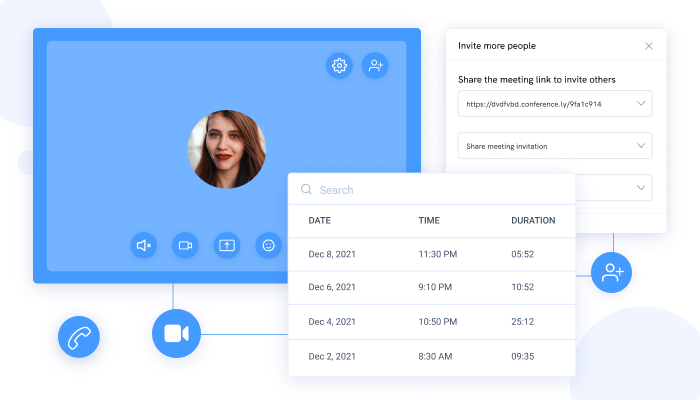 It's no wonder everyone's favorite thing about this technology is that it cancels the need for participants to travel to a specific location.
Video conferencing allows people at two or more locations to see and hear each other simultaneously, using a computer and communications technology.
They exchange visual information using digital video cameras/webcams and streaming video. In addition, audio content may be shared with a computer, telephone system, or an external speaker.
How It Works?
Aside from sparing people the need to travel long distances before seeing each other, a big plus where video conferencing is concerned is in how easy it makes it for you to absorb information.
An audience would find it easier to recall information if they are viewing and hearing it.
To make that happen, video conferencing programs merge web page tools and internet communication into a single interface to create an interactive meeting environment.
These tools include HTML, XML and ASP markup, Java scripts, Flash animation, Instant messaging, Streaming audio and video.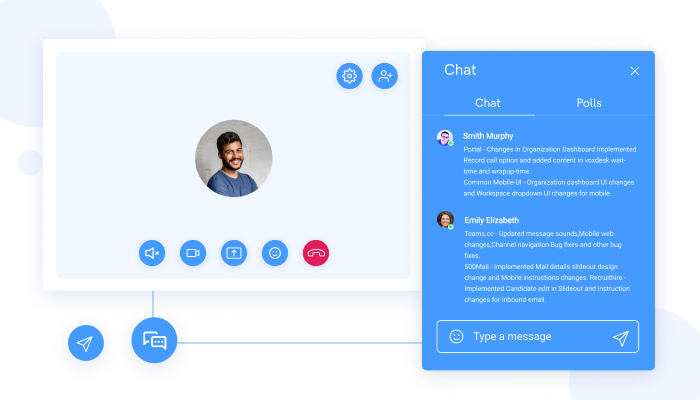 The most straightforward video conference requires two people, each with:
A computer,
An Internet connection
A telephone, in case audio content isn't provided online
A PC with a microphone, a Webcam or digital video camera, and a video capture card.
Video content from the camera and audio input from the microphone are converted to digital data, and software is then used to compress the data.
This way, it travels much more quickly through ISDN lines, WiFi, or broadband internet. After the data reaches its destination, it gets decompressed so it can be viewed on a computer monitor, television screen, or heard via speakers.
Suppose you're willing to go a step further. In that case, acoustic echo cancellation software can be used to eliminate sound interference and remove delays so that sound and visuals will both be heard simultaneously.
The bandwidth and compression ratio typically decide how great the quality of communication is during a video conference. The higher that ratio is, the greater the clarity. For example, 100:1 is clearer than 5:1.
Uses of Video Conferencing
Video Conferencing can be used in several different ways, including: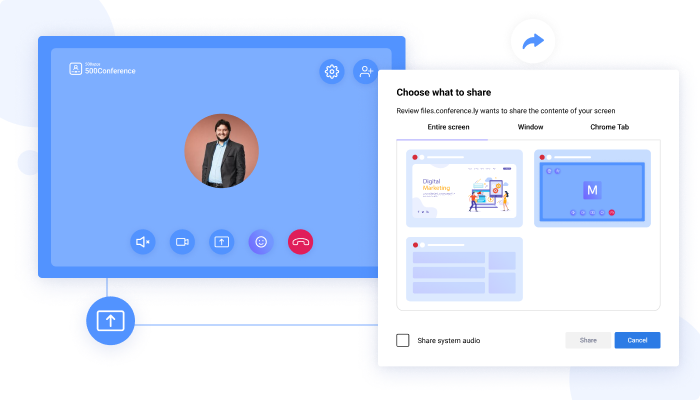 Team meetings,

Webinars,

Product demos,

One-on-one training,

Support

Job interviews.
The Best
How successful your video conferencing attempts depend on high-quality audio and video connections; therefore, selecting a suitable virtual meetings platforms is an important decision.
Here is an overview of 500Conference, a great video conference software pledged to enhance online communication.
This software makes teams and remote workers feel better connected with secure screen sharing, real-time chating, call recording, mobile also access, and private & public meetings.
Here is a breakdown of this great video conference software's features.
Improvement of Face-to-Face Meeting
This software allows you to collaborate globally while using powerful tools like adding your company's logo and modifying the background during a professional virtual meeting.
Enhance your Video Communication with Screen Sharing
With 500Conference, you can grab the attention of attendees, engage more, make a better presentation, and help them understand the objectives better using screen sharing.
Video Call Recording
This software lets you record your meetings and view them later. This ensures you have correct details by writing down what was discussed during the meeting. This feature will help teams maintain human connections regardless of physical location.
Live Chat & Polls
With live chat enabled, you can send instant messages to other users during ongoing meetings. You can also send a private message to an individual participant or help Improve team collaboration with the real-time chat sessions during video conferences. With live polls, you can gain fast feedback.
Manage Global Workspace
500Conference allows you to maintain worldwide connectivity for the whole team, and it boosts efficiency by utilizing the best virtual meeting platform's.
Schedule and Host Secure Meetings
Hosting secure private & public meetings with 500Conference is guaranteed to happen smoothly because it has added encryption and password protection. You can also choose a formal approval for entry by a moderator.