8 Tips for Improving Video Conferencing Software Experience
Most people will encounter difficulties because they are still learning how to use video conferencing software. As a result, I'll go through some ideas to help you have a successful virtual video conference.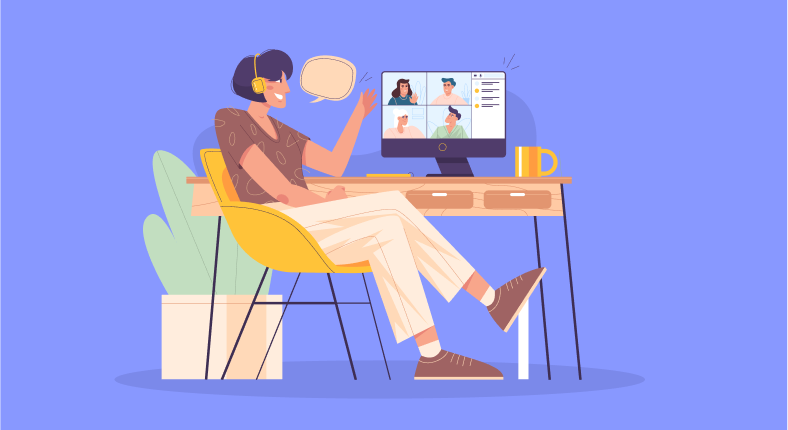 Voice calls used to be the order of the day, while few people used video calls for engagement. A couple of years ago, a few individuals used video conferencing apps to reach their friends and associates. Business organizations rarely have meetings via video conference. Alas, the coronavirus pandemic struck the entire world, and one of the tools that became popular and widely used was the virtual conferencing software.
People used them before the pandemic, but their usage has become more popular. That is the case with virtual conferencing software. Most people began to work from home, and virtual conferencing software became the essential tool for communication.
Video conferencing software are tools, apps, and software to communicate with other parties at different ends. The software allows you to speak and see other participants at various locations. The pandemic changed a lot of practices and activities. Most organizations and teams now conduct their virtual meetings via these video calling software.
Once connected to the internet, two or more parties can communicate via video and audio-enabled devices. With this software, you can hold meetings conduct interviews, conferences, and virtual assessments. Advanced virtual conference platforms are now the ""new normal"" for businesses and individuals.
Video calling software such as 500Conference has advanced features compared to other apps. For example, it allows you to include additional file transfers, media sharing, text display, and subtitles.
500conference gives you access to features such as secure screen sharing, call recording, real-time chatting, mobile access, and private meetings. While in the live video session, you can record the entire conference and save it automatically on your storage device.
You can host a secured meeting whereby only those granted access will participate. The secured screen sharing feature also eliminates interference or unauthorized sharing of the meeting link. Again, only those you give access to can attend the virtual meeting.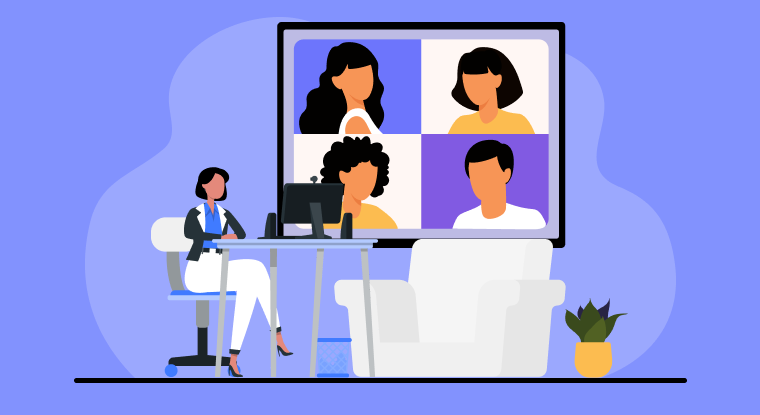 Most video conferencing apps cannot hold meetings beyond a specified duration (i.e., one hour). This is not the case with 500Conference. You can discuss it for as long as you want once you connect your device to the internet.
Since most people are just getting familiar with virtual conferencing software, they are bound to encounter trouble using this software. Therefore, allow us to highlight some tips to help you achieve a successful virtual video conference experience.
Ways to Improve Your Video Conferencing Software Experience
1. Test run your software before the meeting time
Endeavor is to test the virtual conference platforms. Make sure you check all the audio and video features. Ensure your network connection is strong. Find the perfect angle that will be suitable for your meeting. You need to test all the features. It would be unprofessional to struggle to use the elements in the live session. Imagine being in a live discussion, it's your turn to speak, and you cannot unmute your microphone. Embarrassing right? Yes! Test your software, conduct a mini session with your team, and perfect the use of all the features before going live.
2. Be punctual
It is a virtual discussion, but that does not mean you should join late. When you keep to time, you listen attentively and do not miss out on any event. Some people would say it's not a formal meeting and would be joining, while others are would be middle of the discussion. Punctuality is key. Do not keep other participants waiting for you.
3. The camera and eye level
Your team or organizer chose to use virtual conferencing software to see you. You should ensure that the camera captures your eye level unless otherwise stated. When you focus your attention on the camera, you tend to concentrate more on the discussion. It also shows a high level of commitment to the meeting. You can use books to pad your laptop or device so that the camera will be on par with your face.
Always maintain eye contact with the camera. Do not get too close or too far from the camera. Maintain a perfect posture that will balance your face with the screen. If it is a presentation, you can stay a bit far from the camera to show your hand gestures and other background details.
You can ask permission to leave for a few moments and turn off your camera till you are back on site.
4. Dress properly
The camera might cover your head and the upper part of your chest. Ensure you dress well. Always dress appropriately before joining cloud meetings for either a formal or informal discussion.
You do not have to adorn yourself in a complete outfit. Just ensure you cover the upper part of your body with formal wear. For example, you can wear your shirt, tie, and keep your shorts. In a virtual meeting, no one will ask you to walk around and show your legs.
The pandemic introduced us to virtual parties and events. You should dress skillfully according to the theme and mood of the event.
5. Assign a note-taker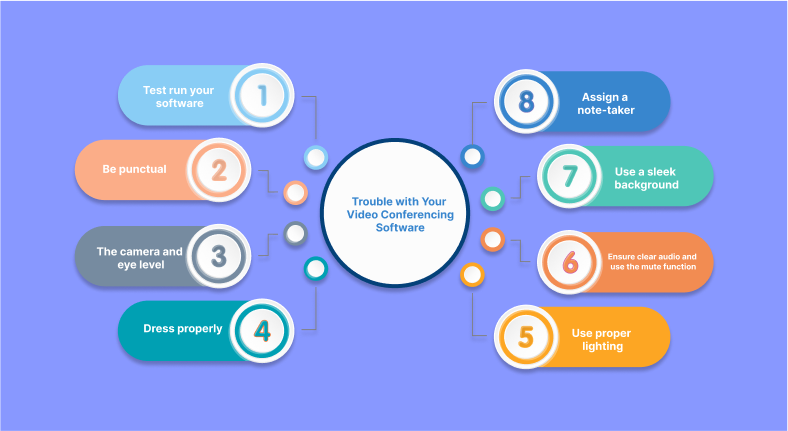 The virtual meetings are no less critical compared to physical sessions. You should ensure you assign someone to take notes on the forum or have your notes handy.
Taking notes and writing important points down will pose you as a serious person to the participants. You do not have to tell people to repeat themselves or find it difficult to recollect the details of the meeting.
Incorporated organizations, the secretaries and clerks are in charge of taking notes. In the absence of one, do not hesitate to have your memos.
6. Use a sleek background
When using video calling software, ensure that your background is sleek. The best scene is a natural and elegant wall. Video conferencing software such as 500Conference allows you to use artificial environments. You can choose any one that suits your style.
7. Ensure clear audio and use the mute function
The video calling software combines both audio and video features. Ensure that your audio transmission is clear and audible. Stay away from background noise.
Endeavour to mute your microphone when it's not your turn to speak or when you are done speaking. No one wants to hear your family members talking or your dog barking. It is embarrassing for you and can divert the attention of the participants.
8. Use proper lighting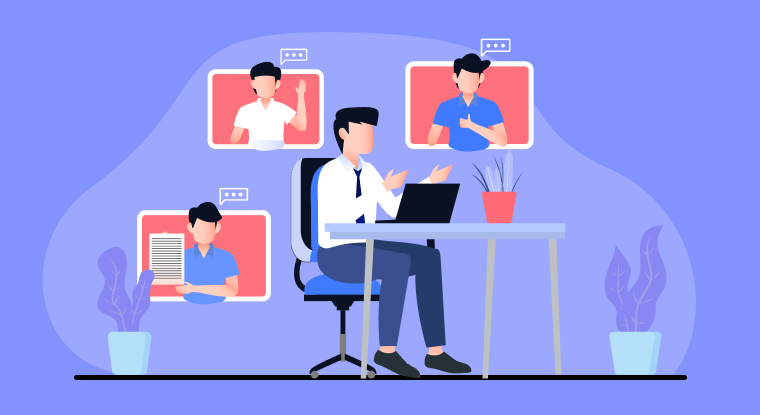 There are several types of lighting that you can use for your video conferencing. First, you can use natural light. Find a good angle where the sun shines into your home or office. You can make use of ring lights or other artificial light sources. Just ensure that the other participants can see your face and identify you.
Finally, use the futuristic virtual conferencing software such as 500Conference by 500apps to take your productive online meetings to the next level. This robust platform has everything you look for in reliable virtual meeting platforms."
What Makes the Best Video Conferencing Software?
#1
Unlimited Meeting Duration
#2
Live Virtual Meeting Recording
#3
Real-time Chat & Polls
#5
Seamless Secure Meetings
#6
Practical Brand Promotion
#9
Unbelievable pricing - the lowest you will ever find
#10
Everything your business needs - 50 apps, 24/5 support and 99.95% uptime
Join the SaaS Revolution
All-in-One Suite of 50 apps

Unbelievable pricing - $14.99/user

24/5 Chat, Phone and Email Support