Tips to Keep Employees Engaged in Online Meetings
Discover a collection of golden guidelines, together with real-world business guidance and recommendations, to help you facilitate and engage in remote meetings.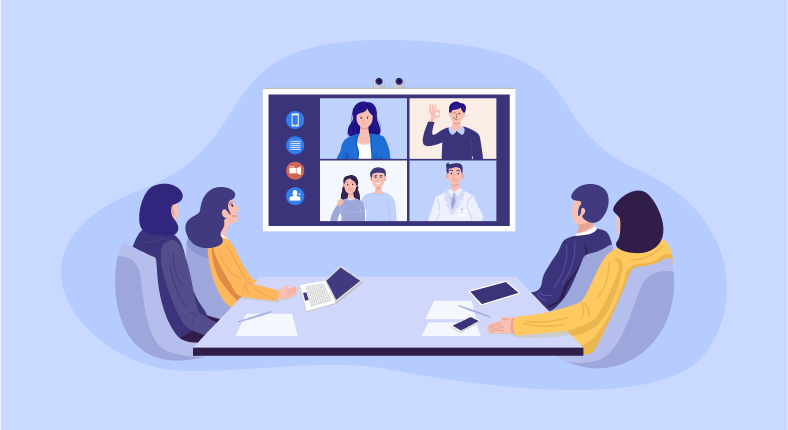 Companies have changed their ways of working with the pandemic. COVID-19 Businesses are evolving and looking for ways to bring in unique work aesthetics. While not limited to expanding their business or generating more revenue, companies are finding ways to make the new virtual conferencing software and activities more lively, less stressful, and less boring while keeping their employees interests at the core.
Furthermore, embracing the uncertainty, many businesses have to create work-from-home schedules, policies, and meeting protocols to stay connected, complete projects, and keep track of their employees' performance. With these unprecedented changes, businesses must evolve and move quickly to new working styles, providing flexibility and working tools, including conference apps, to their employees.
Businesses were looking for new ways to engage employees and participate in online meetings with conference software. This will help the teams come together, clear their communication, and help them stay connected and feel like they are working together for a common cause or a vision. This will unexpectedly enhance their productivity and not the other way around.
So, let's reveal some tricky tips that help your employees engage in online conference platforms and which conference tools work best for them.
How To Keep Employees Involved In Online Meetings During W.F.H.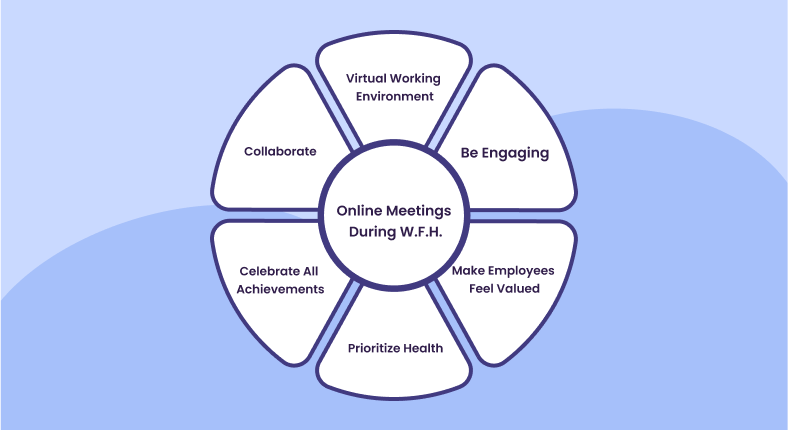 1. Be Engaging
Whether virtual or offline, boring meetings are not well accepted and are tough to carry on. Since it is a virtual meeting, provide live interactions, make it enjoyable with good visuals, and develop some unique ideas to keep people engaged. Also, add some ice-breaking activities to ensure that the meeting does not die away in a whirl.
2. Make Employees Feel Valued
Usually, remote workers feel they are not valued as they cannot participate in the events or project completion meetings that may happen on-site. Therefore, you should invite them to these meetings through conference calls. And to make this happen, you can connect them through a video conferencing software.
Also, it is easy to get your remote team members involved in and participate in various events that take place on-site. Reward their good work and let them know how grateful you are for their work. Always show appreciation for their achievements in projects, big or minor, or task completion. Make them feel how valuable they are to the company. This will make your employees feel valued.
3. Prioritize Health
Online meetings should not just be related to work only. Your employees health should also be a priority, as, without good health, they won't be able to contribute to the work at their optimum. Therefore, you may encourage them to adopt healthy habits like reducing sugar or caffeine. They can even start a 30-minute walk before starting their work or a day's stand-up. Moreover, you can even begin a wellness program like a 1-week Yoga Training course or a weekly Zumba session.
Undoubtedly, this will support your employees, keep them on track with their health, bring them closer to you, and make them understand that you care for them. In addition, you can look for ways to make them stick to their healthy habits through active reminders through the 500Conference notification feature.
4. Celebrate All Achievements
Whether small or big, every achievement of your team or team members needs to be recognized, appreciated, and celebrated. So, make virtual meetings your platform for celebrating achievements. This way, they would instead feel encouraged and enthusiastic, remain engaged in the online discussions, and contribute to the same. Celebrating their achievements makes them feel very happy and valued.
5. Collaborate
Team collaboration plays a pivotal role in a team's productivity. Therefore, it is essential to enhance how remote team members work together. Without cooperation, remote workers feel left out, hampering their productivity. Hence, virtual meetings can be more engaging with team collaboration, where everyone is coming together in the virtual space. Team collaboration enables remote and on-site teams to complete projects faster and more efficiently.
6. Virtual Working Environment
With a structured virtual workspace and the proper tools, you can keep your team engaged, motivated, and productive at work. Companies can bring team members together to stay connected and collaborate by implementing tools from task management to communication. You can pick from advanced conference call tools like 500Conference that help keep your team connected. Such applications also provide other functionalities such as meeting scheduling, screen sharing, instant messaging, and more.
Hence, these simple tricks can easily make online meetings more engaging. However, to keep these virtual meetings interesting, you need powerful conference tools that help add additional elements. So, let's see what factors help you keep your virtual meetings.
Communication is not always all about work, but getting teams to understand each other and connect seamlessly to deliver projects efficiently, is what companies prefer for their virtual teams. So, picking the right conference tool is crucial to ensure that your business communication is seamless, reliable, consistent, and cost-effective. And one such tool is 500Conference by 500apps.
Let's look at some of its basic features that help your team stay connected and engaged while they are working from home.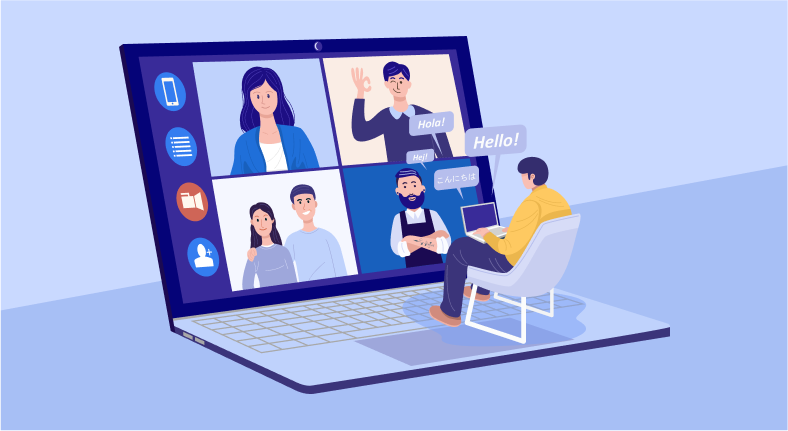 Video Conferencing
The video conferencing feature allows two or more people to communicate face-to-face. As a result, it boosts productivity, saves time, and cuts down on travel costs.
Screen Sharing
Integrated with the Screen Sharing feature, 500Conference allows you to record the screen engagement, unlike zoom calls. Loaded with numerous functionalities, Screen Sharing is highly applicable for seminars, video meetings, webinars, and audio conferencing.
Real-Time Chat
The robust real-time chat feature instantly lets you message and connect with other team members or clients. Moreover, all your messages are well protected with end-to-end encryption without any leakage. The brilliant real-time chat allows team members to share common and private messages during the conference call.
Along with these three main features, 500Conference has many other features that successfully help your virtual teams connect. Hence, it allows your teams from different locations to work in synergy and communicate with each other without any hassles to deliver outstanding results.
Conclusion
With the new normal slowly expanding, we face problems and try to adapt to the changing lifestyle. But, as it seems the unprecedented times will stay for a long time, the work-from-home culture and virtual meetings are sure to stay here for a long time. And the biggest challenge is to keep these virtual teams engaged through interesting online conferences. However, with the above tips and conference tools like 500Conference., you can make online meetings engaging and enjoyable for your virtual teams.
What Makes the Best Video Conferencing Software?
#1
Unlimited Meeting Duration
#2
Live Virtual Meeting Recording
#3
Real-time Chat & Polls
#5
Seamless Secure Meetings
#6
Practical Brand Promotion
#9
Unbelievable pricing - the lowest you will ever find
#10
Everything your business needs - 50 apps, 24/5 support and 99.95% uptime
Join the SaaS Revolution
All-in-One Suite of 50 apps

Unbelievable pricing - $14.99/user

24/5 Chat, Phone and Email Support