7 Best Video Calling Software for Small Businesses
Video conferencing solutions reduce the number of unnecessary meetings, make important meetings more efficient, enable virtual face-to-face contact, and provide enhanced team collaboration features like file sharing and line source to reduce miscommunication.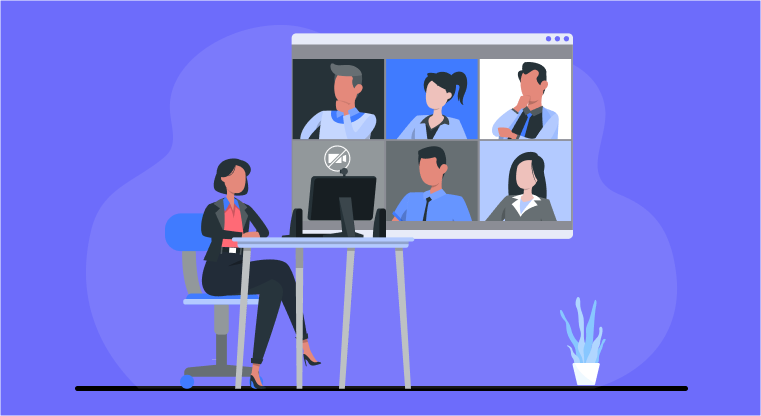 Businesses can now connect to anyone with web conferencing software, irrespective of their location.
However, video calling software are similar and help small businesses solve several problems. However, they differ in features, pricing, setup, and installation. Therefore, we will help you make the best web meeting software decision for your small business by comparing these slight differences.
Our List of the Top Video Calling Software for Startups
500Conference
500Conference is the best web meeting app a small business can use. This video calling software is designed to provide an effective and affordable option for MSMEs. Despite being outfitted with the primary features of virtual conferencing software, 500Conference has several other features that help you enhance your online communication.
It elevates the video call conferencing experience with secure screen sharing, real-time chatting, private messaging, mobile access, and call recording features. All interactions and communication on the all-in-one video conferencing platform are secured from end to end.
Unlike other online conference platforms, 500Conference has no limit on meeting duration and participants. Hence, your team can stay connected with you through meetings for as long as needed.
When it comes to integration, the software integrates with other 500apps software, including team chat software, crm software, and customer service software. It also integrates with other third-party software you use for your business. For quick access, you can add the widget to your website.
You can record live virtual meetings and view them later with its recording feature. So you can go over the meeting details for confirmation of important information. In addition, live chat features allow you to send instant message messages to any participant throughout the meeting.
500Conference is available on mobiles and desktops so that participants can join meetings from anywhere and when mobile.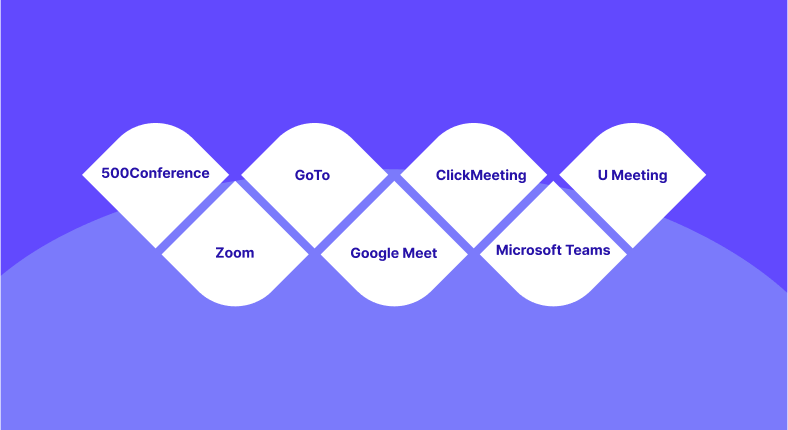 Zoom
Zoom's popularity has significantly increased as software that brings teams together in the post-pandemic era. It has a frictionless and secure video environment. Zoom's reliable and innovative video interface helps businesses have cloud meetings, voice, webinars, and chats across all devices and spaces.
In addition to its provision of high-quality videos, Zoom can support up to 1,000 participants at once. You can also share up to 49 videos on a single screen.
You can save video recordings locally and on the cloud with transcripts and searchable texts.
One of the unique features of Zoom is its deep archive. For example, you can search your meeting history for up to ten years. Also, it secures your communication with 256-bit TLS encryption for both conferences and shared files.
GoTo
GoTo has witnessed increasing popularity over recent years due to the advancement of cloud technology. It offers a reliable video conferencing capability that is both reliable and affordable. With the world adjusting to a new post-pandemic normal, GoTo has proved essential.
Many businesses use GoTo to continue to communicate with employees from home. For conferencing solutions and general communications in meetings and updates. GoTo is mobile-friendly and equipped with screen sharing, audio, and video calling software.
You can set up large conferences from your smartphone, something other significant brand software struggles with. To allow for economies of scale, you can adjust your all and image quality settings. With one-tap invites, you can join meetings as well as chats.
GoTo provides mobile apps for Android and iOS users; both have high review volumes.
Google Meet
Formerly Google Hangout Meets, Google Meets part of the Google productivity suite. The popularity of Google Meet significantly increased at the height of the pandemic as a solution for businesses that need to keep in touch with employees. The takeaway from the meteoric rise of Google Meet is that it provides a first-class video conferencing service.
Designed specifically for businesses, Google Meet can cater to many users at once. Its competent participation and fast interface reduce the need to wait. Once you create a meeting, you will have a dedicated dial-in number that participants can call. This video calling software also ensures that the quality of the conference.
Although there are dedicated apps for Android and iOS users, you can use Google Meet with existing conferencing hardware.
ClickMeeting
In addition to its webinar features, ClickMeeting is loaded with a host of marketing tools. The video calling software primarily has tools like video sharing, private chatting, screen sharing, polls, and other interactive displays you can engage with your mouse. Furthermore, it supports question and answer sessions and live polls to maximize audience participation.
Its marketing capability makes it a prime choice for businesses. You can customize the whole interface to represent your brand. In addition, you can integrate ClickMeeting with a host of other business apps like Zapier and Dropbox.
Microsoft Teams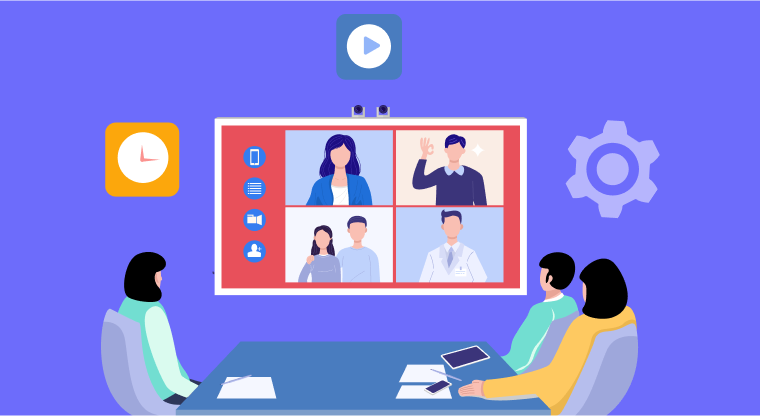 As part of the Microsoft super collection of business tools, Microsoft Teams enables businesses to schedule video and audio cloud meetings. It can allow the participation of up to 10,000 users at once. Its integration into Microsoft 365 makes it easy to schedule appointments and share invites with a few clicks, without downloading the application.
Its robust features include top-notch video conferencing, screen sharing, call recording, live captions, background blurring, and chat functionalities.
Overall, Microsoft Teams is ideal for businesses that already use Microsoft 365.
U Meeting
U Meeting is a video calling software developed by Cyberlink, a Taiwanese multimedia company. U Meeting has features like screen sharing, files sharing, video recording, high-quality imagery, and meeting analysis as a video conferencing platform.
Its most random feature is the PerfectCam, which allows users to add computer-generated finesse to their faces to create a truly professional look.
As an entirely web-based software, U Meeting is not available for downloads. Although this can put off several users, it can be advantageous for businesses that don't need to download additional software.
Conclusion
Choosing the right software for your business can be tricky. We hope to have simplified the task with the list of virtual meeting platforms above.
500Conference by 500apps offers the most affordable pricing plan. With a free program, you can test its features. However, the paid plan gives you limitless control of all the software features for just $14.99/month.
What Makes the Best Video Conferencing Software?
#1
Unlimited Meeting Duration
#2
Record Live Virtual Meetings
#3
Real-time Chat & Polls
#4
Manage Multiple Participants
#5
Seamless Secure Meetings
#6
Practical Brand Promotion
#9
All-in-One Video Conferencing Software
#10
24/5 Support and 99.5% Uptime Guarantee