10 Best Virtual Meeting Platforms to Help You Conduct a Remote Meeting
Virtual meeting platforms have become essential for any business to function smoothly. Choosing the best virtual meeting platforms, such as 500Conference, is always preferable. It comes with all the features that make it suitable for businesses and individuals.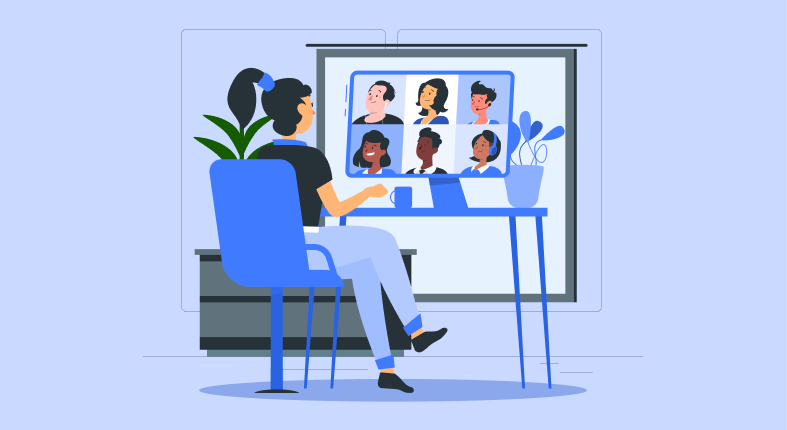 Businesses in the digital era have always used the latest techniques to communicate and stay connected with consumers and remote employees. However, the recent global pandemic has acted as a catalyst in increasing the use of various virtual meeting platforms. In a time when the world is following social distancing norms, businesses are depending on a good virtual meeting platform. It helps them exchange information, work together, and stay connected.
Due to the rising demand and dependency on virtual meeting platforms, you will see a sudden rise in such tools. All of them provide similar benefits and share similar features. However, there may still be a few platforms that are better than their competitors. Therefore, every business needs to search for the best virtual meeting platform.
What is a Virtual Meeting Platform?
Virtual meeting platforms are specialized software or video applications that help bring people together via the internet. Good quality virtual meeting software will come with several in-built tools, such as chat and screen sharing.
Virtual meeting platforms are also known as online conference platforms or online meeting software. You can use such software to host conferences, team-building activities, meetings, events, virtual happy hours, and games.
10 Best Virtual Meeting Platforms
Video conferencing platforms help bring remote teams together. There are multiple software packages that can help you with virtual meetings. However, not all of them may be suitable for your purposes. On the other hand, some virtual meeting software provides the best-in-class online meeting experiences.
500Conference
If you want to enjoy the ultimate video conferencing experience, then 500Conference will be the software to choose. Designed by 500apps, this software offers a brandable, secure, and embeddable conferencing solution suitable for all types of businesses. Furthermore, with 500Conference around, you can expect the possibility of an unlimited number of attendees joining your virtual event.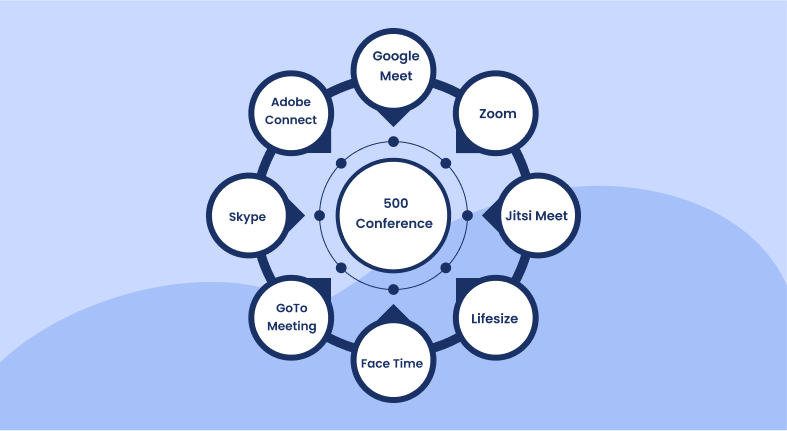 This one-of-a-kind Virtual Conferencing Software comes with built-in analytics and world-class security. It effectively and efficiently protects your team and data online. 500Conference offers crisp audio and HD video quality for all your virtual meetings. The best part about the software is that you can access your online sessions from any location using any device. Some of the features of 500Conference are:
Video conferencing
File sharing
Secure meetings
Real-time chat
Meeting management
Scheduling
Google Meet
Google had created Google Meet to organize virtual meetings with their enterprise consumers. However, the company soon decided to make Google Meet available for people to use. Google Meet allows a maximum of 250 participants to attend an online meeting. There are also different features available with the application, such as anti-abuse features and live captions. Unfortunately, every attendee needs to have a Google Account to join a virtual meeting on Google Meet.
Zoom
Due to the platform's rising popularity, Zoom has become a synonym for virtual meetings. One of the essential factors behind the platform's rising popularity is its ease of use. Almost anyone can use the platform to join a virtual conference or seminar. You need to send a URL to others you wish to invite for a Zoom meeting. Attendees don't need to have a Zoom account. Zoom is suitable for online games, conferences, and any activity involving virtual team participation.
Jitsi Meet
If you are looking for an open-source virtual meeting platform that you can easily customize, Jitsi Meet will be the best choice. This platform ensures high-class security with powerful encryption, and there is no need for attendees to have a Jitsi Meet account to be a part of these virtual meetings. In addition, the platform is free, and there is no limitation to the number of people joining a virtual seminar or event.
Lifesize
The virtual conferencing software created by Lifesize is suitable for you if you want to enjoy 4K video quality with several integrations. The platform provides top-class security, and it does not demand any paid membership for you to hold unlimited virtual events. However, it allows a maximum of 25 attendees in each event. Similar to Zoom, Lifesize also enables you to invite others by sharing a URL for the meeting.
Face Time
This is another popular virtual meeting platform suitable for both individuals and businesses. The only drawback of Facetime is that the platform is only compatible with Apple devices. However, it allows you to organize virtual events with a maximum of 32 participants for each event. In addition, Facetime comes with several integrated tools to enable you to see who is currently speaking. It also allows you to choose who all attending a meeting becomes visible on your screen.
GoTo Meeting
This is one of those few online conference platforms with several built-in tools that allow team members to chat, share dialogue transcriptions for video, and adjust meeting settings. In addition, GoToMeeting will enable you to invite a maximum of 100 attendees for each online event and gives you a 14-day free trial for first-time users.
Skype
Skype is one of the oldest and most prevalent virtual meeting platforms. There was a time when Skype had become a household name for all types of video calls. However, with the introduction of various other similar platforms, the popularity of Skype began to fall fast. Nonetheless, Skype provides multiple benefits for secure meetings. It allows 50 participants for each online event, and you need not register to use Skype.
Adobe Connect
If you talk about one of the best video meeting platforms, then Adobe Connect will be a name to reckon with. The platform also provides messaging, video chat, and desktop sharing options besides virtual conferencing solutions. However, unlike many other competitors, Adobe Connect is not available for free. Instead, it comes with a steep price tag that makes it inappropriate for individuals.
Improve your team work and communication with Online Virtual Meetings Today! Sign Up 14 Day Trial
Join.me
Another name on the list of popular free virtual meeting platforms is Join.Me. The platform has several integrated tools that allow you to perform several tasks while attending or organizing an online event. For example, you can change the background as per your liking and change the URL links. The USP of Join.Me is that you can sync it with various other popular tools, such as Office 365, Google Calendar, and Outlook.
How to Choose the Best Virtual Meeting Platform for Your Needs?
There are multiple varieties of virtual meeting platforms in the market. Although most of them share similar features, choosing any platform without proper consideration will not be a good idea. It would help to keep several factors in mind while selecting the best video calling software. Some of these factors are hereunder.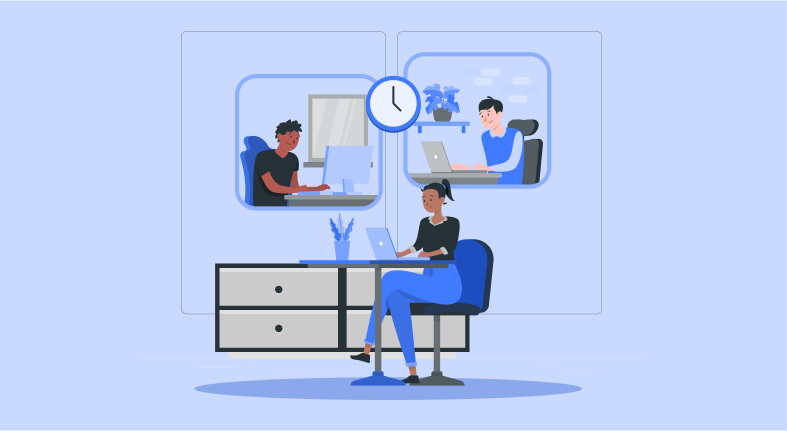 Insight
While shopping for a suitable online conference platform, ensure that the software has the required features to fulfil your needs. If you choose a virtual meeting platform and later find out that it has several valuable features missing, then it will be useless for your company.
Video Conferencing
The primary job of a virtual meeting platform is to allow people to see and talk to each other via the internet using a computer's camera and microphone. It is as if they are sitting face to face. If the platform you choose lacks this feature, then the sole aim of the platform fails. Thus, always ensure that you choose a platform that allows video conferencing.
Superior and Dependable
The video and audio qualities play a significant role in any online meeting running smoothly and ending successfully. Therefore, when searching for a suitable online meeting software or platform, ensure that it provides high resolution and audio quality.
What Are The Benefits Of Virtual Meeting Platforms?
There are several benefits of online events or cloud meetings. A few of these benefits are discussed below.
Better Communications
When you communicate face-to-face with others, it helps to improve the way messages are delivered and received. People can also understand instructions properly when told to them via video conferencing. In other words, virtual meetings are much better than sending emails or talking over the phone.
Encourage Two-Way Communication
Virtual meeting platforms encourage two-way communication. You can gain knowledge from the speakers and clarify your doubts in real-time. In other words, it helps to spread understanding between employers and employees.
Conclusion
Virtual meeting platforms have become a boon in disguise for many businesses worldwide. During these times when the world is following social distancing norms, virtual events have gained importance and momentum in every corner of the world. Thus, your company needs to choose a suitable virtual meeting platform.
500Conference is a secure and embeddable virtual conference platforms that allows an unlimited number of attendees to participate in an online event. Whether you are an individual planning to organize an online meeting with your friends or a business planning to organize a virtual seminar, 500Conference is suitable for all.
500apps is the creator of 500Conference. The company has around 39 different tools designed to cater to the needs of various departments within a company. So whether you want a tool to boost productivity, help your sales team, or increase the effectiveness of your HR team, you name it, and 500apps has it ready for you.
What Makes the Best Video Conferencing Software?
#1
Unlimited Meeting Duration
#2
Live Virtual Meeting Recording
#3
Real-time Chat & Polls
#5
Seamless Secure Meetings
#6
Practical Brand Promotion
#9
Unbelievable pricing - the lowest you will ever find
#10
Everything your business needs - 50 apps, 24/5 support and 99.95% uptime
Join the SaaS Revolution
All-in-One Suite of 50 apps

Unbelievable pricing - $14.99/user

24/5 Chat, Phone and Email Support