How to Use Video Conferencing to Boost Your Business?
Virtual conferencing has become an essential mode of communication for businesses. 500Conference is a software that allows virtual conferencing and does much more with its vast range of features.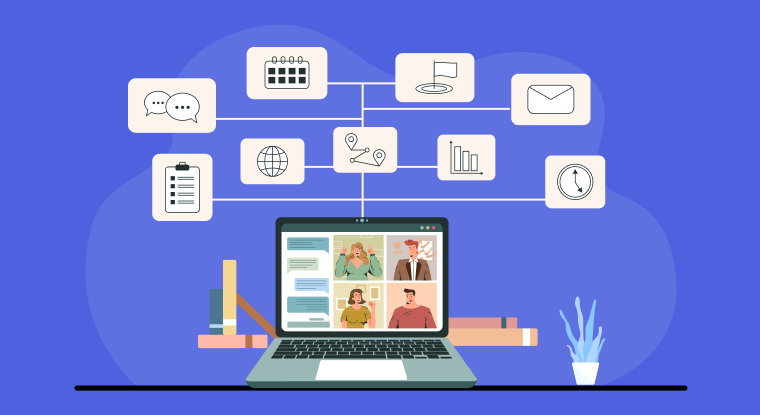 Significant technological advancements have changed the way you conduct your business operations. Additionally, the recent global pandemic has enabled many people to work remotely. Changes in how you run your business activities were inevitable due to the importance of globalization of businesses and instant communication.
For any business to expand its horizon and spread its wings, it is necessary to maintain high-quality relationships with suppliers, customers, partners, investors, and employees. This is why the concept of video conferencing has become so popular. Video conferencing helps save time, enhances productivity, promotes collaboration, and reduces travel expenses.
What Is Video Conferencing For Businessess?
Video conferencing is another name for online meeting that happens over the internet. You need to connect video conferencing systems in meeting rooms with various personal devices, including smartphones and computers with built-in webcams. Your remote teams from different countries can easily stay connected with the help of virtual conferencing. Virtual meetings can help teams improve their productivity and stay engaged.
Why Use Video Conferencing?
There was a time when telephones were the only means of communication between teams working for the same organization. As technology advanced to a different level, emails became a primary means of communication. However, the progress did not end here. Due to further technological advancements, online video conferencing has become an essential communication tool. There are several benefits of video conferencing.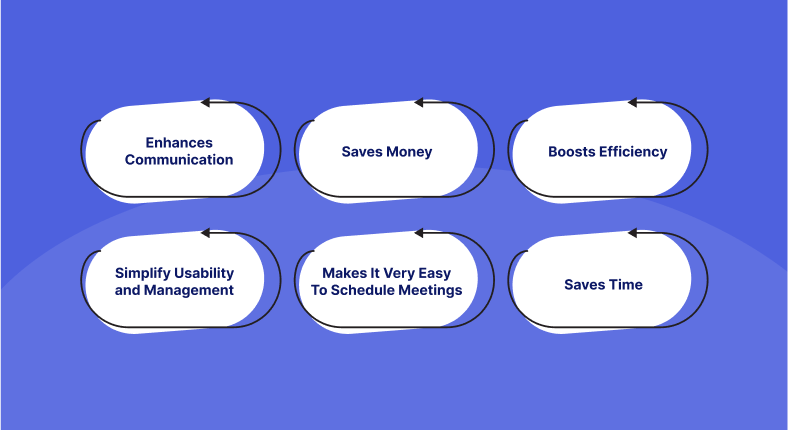 Enhances Communication
Recent data shows that humans process visual information much faster and more accurately than audio or text. Another data stated that almost 62% of executives agree to the fact that video conferencing notably enhances the quality of communication. Whether you own a small business or are a part of a large multinational organization, clear communication is crucial in helping you understand your goals. This makes virtual conferencing a big success.
Saves Money
Video conferencing helps your teams meet face-to-face. In other words, it provides your employees with a collaborative, "in-person" experience without incurring traveling expenses. Additionally, the capability to meet virtually also empowers your company to hire the best possible talent in the market and allow them to work remotely. With time, you can also consider expanding your business to remote places and hiring the best skills.
Boosts Efficiency
Online video conferencing allows more transparent communication through screen sharing, non-verbal and verbal cues, and real-time collaboration. The possibility of joining such a conference from any location helps boost your efficiency. You do not have to sacrifice time to join the virtual meeting.
Simplify Usability and Management
Efficient management of your teams requires you to meet them face-to-face. You need to discuss the company's goals with them and find out their limitations. If your teams are spread to different corners of the world, meeting them face-to-face on a periodical basis may not always be possible. In such cases, virtual conferencing can help you a lot. You can meet them in person via the internet on your computer or mobile screen and discuss all the essential points. This simplifies management and usability to a great extent.
Makes It Very Easy To Schedule Meetings
Many organizations have teams that work in far-off places and travel regularly. Scheduling a meeting with such groups may seem impossible. Nonetheless, it is essential to have occasional meetings with such teams to discuss organizational goals and other factors. This is where virtual conferencing comes into the picture. You can schedule a virtual meeting with them via the internet, and they can join in no matter where they are.
Saves Time
Video conferencing allows you to meet your teams face-to-face from any location. This saves you time traveling to wherever they are to meet them. However, online video meetings can also save your time in other ways. For example, when you host a virtual meeting apart from sorting out an issue via email, you can avoid confusion and a barrage of messages and help your team stay at par with your plans and thoughts.
500Conference – Simplify Cloud Meetings
500Conference is one of the best-in-class virtual conferencing software that lets your team members communicate and collaborate with you more efficiently and effectively. It is a streamlined internal online conferencing software with multiple powerful features to allow limitless possibilities in your favor.
With 500Conference, you can enjoy real-time chatting, secure screen sharing, live webinars, polls, and call recording. In addition, there are multiple other software features that you will hardly find in its competitors.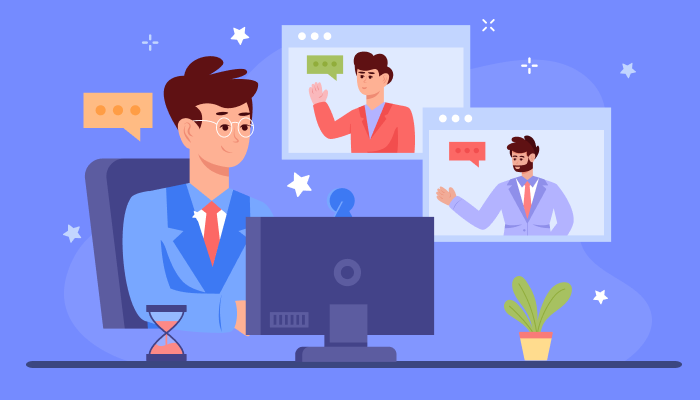 This feature lets you finalize who can join a meeting and whom to block from attending the online conference. In addition, participants with a specific email domain will find it possible to enter the virtual conference room.
500Conference comes with an intuitive and flexible integrated chat feature that lets you message each other in real-time. It enables you to share information and ideas quickly and efficiently with others.
With the video conferencing feature, you can easily stay on top of your business from any location. This feature provides high-definition video and audio to enable proper video communication via the internet.
This critical feature enables employees to join a virtual conference from any location and time using a handheld device. So even if they are moving, they can attend the meeting on their smartphones or tablets.
Conclusion
Video conferencing has become one of the primary modes of communication for business organizations as it allows clear and effective communication between team members irrespective of location. 500Conference is one of the top-quality online conferencing software on the market. It is power-packed with some of the best features that you might not find in other similar software. 500Conference is one of the 39+ different software created by 500apps. The company has applications and tools covering various aspects of a business operation.
What Makes the Best Video Conferencing Software?
#1
Unlimited Meeting Duration
#2
Live Virtual Meeting Recording
#3
Real-time Chat & Polls
#5
Seamless Secure Meetings
#6
Practical Brand Promotion
#9
Unbelievable pricing - the lowest you will ever find
#10
Everything your business needs - 50 apps, 24/5 support and 99.95% uptime
Join the SaaS Revolution
All-in-One Suite of 50 apps

Unbelievable pricing - $14.99/user

24/5 Chat, Phone and Email Support